Super Troopers (19-Jan-2001)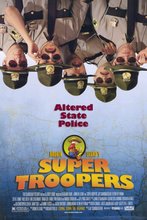 Director: Jay Chandrasekhar
Writers: Jay Chandrasekhar; Kevin Heffernan; Steve Lemme; Paul Soter; Erik Stolhanske
Music by: 38 Special
Producer: Richard Perello
Keywords: Crime/Comedy, Marijuana




Vermont state troopers prone to bumbling behavior attempt to save their jobs by solving a tough crime.
ABSTRACT
Farva, Foster, Mac, Rabbit, and Thorny are five Vermont state troopers living an off-kilter lifestyle, biding their time at a remote station near a Canadian border crossing with pranks and other acts of bumbling behavior. When budget cuts in their tiny town threaten the continued existence of their department, the friends and co-workers spring into action, working to solve a crime possibly attached to a large drug ring in an attempt to outdo the town's police department and save their jobs.
CAST
Jay Chandrasekhar
... Thorny
Kevin Heffernan
... Farva
Steve Lemme
... Mac
Erik Stolhanske
... Rabbit
Paul Soter
... Foster
Also Starring
Brian Cox
... Capt. O'Hagan
Daniel von Bargen
... Chief Grady
Marisa Coughlan
... Ursula
Special Appearance by
Lynda Carter
... Gov. Jessman
and
Amy DeLucia
... Bobbi
John Bedford Lloyd
... Mayor Timber
Jim Gaffigan
... Larry Johnson
Dan Fey
... Local Officer Burton
Michael Weaver
... Local Officer Smy
James Grace
... Local Officer Rando
Andre Vippolis
... College Boy 1
Joey Kern
... College Boy 2
Geoffrey Arend
... College Boy 3
Camille Hickman
... Thin Queen Bartender
Aria Alpert
... Waitress
Chloe Kai O'Connor
... Dead Woman (Lucy Garfield)
Christian Albrizio
... Arlo
Jim Edwards
... Complaining Fan
Jimmy Noonan
... Frank Galikanokus
Philippe Brenninkmeyer
... German Man
Maria Tornberg
... German Woman
Blanchard Ryan
... Casino La Fantastique Sally
Jane Heffernan
... Chicken F**ker
E. Michael Heffernan
... Chicken F**ker
Charlie Finn
... Dimpus Burger Guy
Tracy Tobin
... Governor's Aide
Rich Perello
... Banquet Bartender
Trish McGettrick
... Gawking Citizen
Danny Padilla
... Urinatee
John Carlino
... Pilot
Walt McPherson
... Foreman One
Jerry Walsh
... Foreman Two
REVIEWS
Review by mizi causevic (posted on 13-Feb-2005)
Super Troopers is a low-budget indie comedy from five college graduate (Colgate Uni) friends, the starring Broken Lizard Actors/Writers. Jay Chandrasekhar, Kevin Heffernan, Steve Lemme, Paul Soter and Erik Stolhanske portray members of Vermnot Highpay Patrol, their work consists of practical jokes played on the citizens they are suppose to protect. Smoke the grass, race each other on the highway, get buzzed afterwards-- it's the dream job of every cop... well maybe not, but it would definitely be my dream job if I was a cop. These five jokers are up against their rivals, a local police department who is out to put these five badboys into early retirement due to a state funding cut. Super Troopers have to basically cut down on their 'funtime' and do some actual work if they want to keep their jobs. But what's this? Yhe local police department doesn't want to see that happen. They will do everything in their power, even if it means crossing the border and stealing the highway patrol's daily routine work, to get these outta the force.
Personally I have been waiting for a long, long time for a movie like this to come out. Seeing that I grew up loving the Police Academy series to death, it's natural that I like this movie as well. It's basically a Police Academy Déja Vu with a slight mix of Animal House thrown in. I honestly think these guys had more fun filming this movie than we, the audience, did watching it. Nonetheless, I walked out of this movie with a smile of my face. Everyone around was quoting the scenes which is always cool, it just goes to show that the movie was enjoyable.
I am definitely going to have a hard time believing if troopers are really serious, or just messin' around with whoever they stop by in the future. This movie is fraught with twisted humor that will have you laughing from start until the end. The opening scene alone will put a smile on your face.
Super Troopers received a midnight screening on 2001 Sundance Film Festival and was immediately picked up by Fox Searchlight pictures. Even though the movie was only released in selected theaters, it barely made $1.5 million dollars. Not that this matters, I personally like seeing a good movie from an indie theater than a big motion picture flop. I find better audiences in indie theaters anyway, maybe that says something about my taste, I'm not sure.
This flick is really enjoyable, if you're looking to chill out and just laugh at stupid scenes--this is your call. Rent this puppy when it comes out, invite some friends over for a party and enjoy this quality indie flick.
---
Do you know something we don't?
Submit a correction or make a comment about this profile

Copyright ©2019 Soylent Communications