Stand by for Action (31-Dec-1942)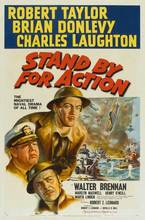 Director: Robert Z. Leonard
Writers: George Bruce; John L. Balderston; Herman J. Mankiewicz; Capt. Harvey Haslip; R. C. Sherriff
From short story: A Cargo of Innocence by Laurence Kirk
Musical Score: Lennie Hayton
Producers: Robert Z. Leonard; Orville O. Dull




An experienced Lieutenant Commander and a reserve Lieutenant fresh out of college are paired as captain and executive officer of the USS Warren, a destroyer left over from World War I. They take on a cargo of two pregnant women and a dozen babies, and take out a Japanese battleship.
CAST
REVIEWS
Review by anonymous (posted on 9-Jan-2007)
An excelent movie from the headliners to the supporting cast,a clever combination of drama, comedey, suspnse and action, well acted by all. Robert Taylor plays Lt. Masterman a spoiled member of the ultra rich Harvard set who starts out as an admirals aid under the command of Admiral Steven Thomas played by Charles Laughton( this is my favorite role by Charles Laughton) and ends up as the executive officer on the USS Warren under the command of Lt. Commander Marten J Roberts ( Brian Donlevy an excelent and under rated actor who does an above average acting job in this movie ) where he is transformed into a real Navy man through the trials of war from being saved from going over baord in a storm by Chief Yoeman Harry Johnson( played very well as usual by Walter Brennan)an aged but experianced destoyer man who is injured but comes to the rescue in just the nick of time)to rescuing a lifeboat full of babies and two pregnant women both of whom give birth with the help of the carpenters mate Chips ( played very well by Hobart Cavanagh ) to joining a convoy and ultimatly saving it from a jap battleship the supporting cast from Chill Wills to the many actor and actreses too numerous to name, mesh to create that atmosphere that is presant in all superior movies as this is surely a superior movie. This is a film worth adding to your collection although you will have to record it as I have not been able to find it for sale. This film was meant to be something inspirational for the public showing we were winning battles in the war and was well accepted by the public at the time it was released this film attains its goals all aspects of this prodution are above average, direction, production, filmography, special effects(really above average the battle scenes are both exciting and believable) and what ever else you can think of.
---
Do you know something we don't?
Submit a correction or make a comment about this profile

Copyright ©2019 Soylent Communications