Stand By Me (8-Aug-1986)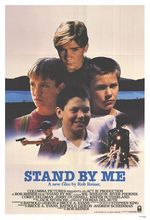 Director: Rob Reiner
Writers: Raynold Gideon; Bruce A. Evans
From novella: The Body by Stephen King
Music by: Jack Nitzsche
Producers: Andrew Scheinman; Bruce A. Evans; Raynold Gideon
Keywords: Drama, Coming of Age




Four pre-teen boys from small town America learn the location of a dead body, a child struck by a train; they undertake a thirty mile journey to find it. Powerful characterizations reflect on childhood, life, and friendship. Told as a flashback from Gordie, one of the boys. Title is from a Ben E. King song. Received Oscar nomination for Best Screenplay.
CAST
Starring
Wil Wheaton
... Gordie Lachance
River Phoenix
... Chris Chambers
Corey Feldman
... Teddy Duchamp
Jerry O'Connell
... Vern Tessio
Also Starring
Kiefer Sutherland
... Ace Merrill
Casey Siemaszko
... Billy Tessio
Gary Riley
... Charlie Hogan
Bradley Gregg
... Eyeball Chambers
Jason Oliver
... Vince Desjardins
Co-Starring
Marshall Bell
... Mr. Lachance
Frances Lee McCain
... Mrs. Lachance
Bruce Kirby
... Mr. Quidacioluo
William Bronder
... Milo Pressman
Scott Beach
... Mayor Grundy
and
Richard Dreyfuss
... The Writer
John Cusack
... Denny Lachance
Madeleine Swift
... Waitress
Popeye
... Chopper
Geanette Bobst
... Mayor's Wife
Art Burke
... Principal Wiggins
Matt Williams
... Bob Cormier
Andy Lindberg
... Lardass Hogan
Dick Durock
... Bill Travis
O. B. Babbs
... Lardass Heckler #1
Charlie Owens
... Lardass Heckler #2
Kenneth Hodges
... Donelley Twin
John Hodges
... Donelley Twin
Susan Thorpe
... Fat Lady
Korey Scott Pollard
... Moke
Rick Elliott
... Jack Mudgett
Kent Luttrell
... Ray Brower
Chance Quinn
... Gordon's Son
Jason Naylor
... His Friend
REVIEWS
Review by alisa jones (posted on 29-Mar-2005)
This movie has got to be one of the best movies I have ever seen. This story, about four young boys, is a coming of age classic that is based on a novella by Stephen King called "The Body". Gordie Lachance is now an adult who is reminded of a summer when he was twelve by the death of Chris Chambers, Gordie's old best friend. That summer, four friends go on an adventure that they will never forget. The main character, Gordie (Wil Wheaton), is a shy and sensitive boy whose brother, that he was very close to, died a month ago and gordie is sure that his father hates him. Chris Chambers (River Phoenix) is the leader of this group of friends and Gordie's best friend. Chris, comes from a bad family and everyone in town is convinced that he will turn out bad too, including Chris. Teddy (Corey Feldman) is "The craziest guy we hung around with", in older Gordie's words. His father "stormed the beach at normandy" and never really got over it. A quote from the movie by older Gordie, "His father was given to fits of rage. One time he held teddy's ear to a stove and almost burnt it off." Teddy often imagines his father as an all-American hero that went to war to defend his country and is very sensitive in that sense. Vern Castilo, the scaredy cat, is constantly being picked on because of his weight and is the butt of every joke. As you can see, they all have their share of problems, so when Vern comes into the clubhouse one day bearing news that he overheard the place of a recently missing dead boy, all four boys agree that if they find the body they would be famous. The boys decide walk the train tracks and find the body, but the adventure quickly turns into an odessy of self discovery.Unfortunatly, The local gang decides to find the body and they have a CAR. They four friends sneak smokes, cuss because it's cool, and stand by each other when the going gets tough.
---
Do you know something we don't?
Submit a correction or make a comment about this profile

Copyright ©2019 Soylent Communications