Ed Wood (28-Sep-1994)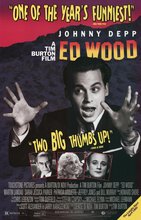 Director: Tim Burton
Writers: Scott Alexander; Larry Karaszewski
Based on a book: Nightmare of Ecstasy by Rudolph Grey
Music by: Howard Shore
Producers: Denise Di Novi; Tim Burton
Keywords: Drama, Comedy, Biography, Crossdressing, Alien Invasion, Vampire




The career of Ed Wood, director of terrifically bad films, and crossdresser with a peculiar taste for Angora sweaters. Wood meets the washed-up horror star Bela Lugosi, whom he casts in several films including the notorious Plan 9 from Outer Space (1959). Clearly a pet project, this is one of Tim Burton's finest efforts. Won Oscars for Best Supporting Actor and Best Makeup; nominated for the Palme d'Or at Cannes.
[watch trailer]
CAST
Johnny Depp
... Ed Wood
Martin Landau
... Bela Lugosi
Sarah Jessica Parker
... Dolores Fuller
Patricia Arquette
... Kathy O'Hara
Jeffrey Jones
... Criswell
G. D. Spradlin
... Rev. Lemon
Vincent D'Onofrio
... Orson Welles
Lisa Marie
... Vampira
and
Bill Murray
... Bunny Breckinridge
Mike Starr
... Georgie Weiss
Max Casella
... Paul Marco
Brent Hinkley
... Conrad Brooks
Juliet Landau
... Loretta King
George "The Animal" Steele
... Tor Johnson
Clive Rosengren
... Ed Reynolds
Norman Alden
... Cameraman Bill
Leonard Termo
... Makeup Man Harry
Ned Bellamy
... Dr. Tom Mason
Danny Dayton
... Soundman
John Ross
... Camera Assistant
Bill Cusack
... Tony McCoy
Aaron Nelms
... Teenage Kid
Biff Yeager
... Rude Boss
Joseph R. Gannascoli
... Security Guard
Carmen Filpi
... Old Crusty Man
Lisa Malkiewicz
... Secretary #1
Melora Walters
... Secretary #2
Conrad Brooks
... Bartender
Don Amendolia
... Salesman
Tommy Bertelsen
... Tough Boy
Reid Cruickshanks
... Stage Guard
Stanley Desantis
... Mr. Feldman
Lionel Decker
... Executive #1
Edmund L. Shaff
... Executive #2
Gene LeBell
... Ring Announcer
Jesse Hernandez
... Wrestling Opponent
Bobby Slayton
... TV Show Host
Gretchen Becker
... TV Host's Assistant
John Rice
... Conservative Man
Catherine Butterfield
... Conservative Wife
Mary Portser
... Backer's Wife
King Cotton
... Hick Backer
Don Hood
... Southern Backer
Frank Echols
... Doorman
Matthew Barry
... Valet
Ralph Monaco
... Waiter
Anthony Russell
... Busboy
Tommy Bush
... Stage Manager
Gregory Walcott
... Potential Backer
Charles C. Stevenson, Jr.
... Another Backer
Rance Howard
... Old Man McCoy
Vasek C. Simek
... Prof. Strowski
Alan Martin
... Vampira's Assistant
Salwa Ali
... Vampira's Girlfriend
Rodney Kizziah
... Vampira's Friend
Korla Pandit
... Indian Musician
Hannah Eckstein
... Greta Johnson
Luc de Schepper
... Karl Johnson
Vinny Argiro
... TV Horror Show Director
Patti Tippo
... Nurse
Ray Baker
... Doctor
Louis Lombardi
... Rental House Manager
James Reid Boyce
... Theatre Manager
Ben Ryan Ganger
... Angry Kid
Ryan Holihan
... Frantic Usher
Marc Revivo
... High School Punk
Charlie Holliday
... Tourist
Adam Drescher
... Photographer #1
Ric Mancini
... Photographer #2
Daniel Riordan
... Pilot -- Strapping Young Man
Mickey Cottrell
... Hammy Alien
Christopher George Simpson
... Organist
Choir
Robert Binford
... Choir Member
Herbert Boche
... Choir Member
Linda Rae Brienza
... Choir Member
Marlene Cook
... Choir Member
Sylvia Coussa
... Choir Member
Audrey Cuyler
... Choir Member
Joseph Golightly
... Choir Member
Carrie Starner Hummel
... Choir Member
Ramona Kemp-Blair
... Choir Member
Carolyn Kessinger
... Choir Member
Nancy Longyear
... Choir Member
Matthew Nelson
... Choir Member
Robert Nuffer
... Choir Member
William Michael Short
... Choir Member
Susan Eileen Simpson
... Choir Member
George F. Sterne
... Choir Member
Charles Alan Stephenson
... Choir Member
Cheri A. Williams
... Choir Member
Cynthia Ann Wilson
... Choir Member
REVIEWS
Review by Karlos (posted on 25-Feb-2005)
Tim Burton outdid himself with this beautifully crafted nod to "The Worst Director of All Time." Filmed in 1950's black and white, the cinematography, editing and production values only add to a cast and director that treats its subject(s) with an unexpected respect. Johnny Depp plays the title character with an optimism that surrounds and ensnares the oddball circle of friends and collaborators that journeyed along with Ed Wood during his brief and troubled career. Depp has found a personality in Wood that he plays straight laced even in scenes that could be a bit much for other actors. Martin Landau is absolutely uncanny as the aged, down on his luck, morphine addicted Bela Lugosi whom Ed Wood unexpectedly meets on the street and brings into his B movie productions. (Even the death of Bela Lugosi doesn't stop Ed Wood from shooting a whole movie starring Bela, with just a minutes worth of Lugosi on film). Watching Landau inhabit this role is alone worth watching the movie, although the rest of the cast shines brightly as well. Bill Murray is hilarious as Bunny Breckinridge, a would-be transsexual whom Wood gets to be his "Master of the Universe" in the infamous Plan 9 From Outer Space. Sarah Jessica Parker is right on as Ed's "in the dark" girlfriend who can't understand why her angora sweaters are stretched out; and who finally can't take the weirdos who somehow have inhabited her world. In the hands of another director, it would've been easy to mock the characters and times of this material. In the direction of Mr. Burton, you can't help but smile at the affection and warmth he showers over these imperfect people. Ed Wood is a must see for those of us who, back in the day, loved "monster movies", for those of us who collected monster mags in the sixties and for those of us that sat in front of the tv when Ed Wood films came on late at night and we pointed and yelled, "That tombstone just moved!" But most of all, Ed Wood is a must see for those of us who love good movies.
---
Do you know something we don't?
Submit a correction or make a comment about this profile

Copyright ©2019 Soylent Communications