A Patch of Blue (10-Dec-1965)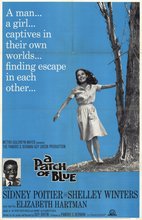 Director: Guy Green
Writer: Guy Green
From novel: Be Ready With Bells and Drums by Elizabeth Kata
Music by: Jerry Goldsmith
Producer: Pandro S. Berman




A blind girl treated shabbily all her life is befriended by a smart, young professional black man. Those around her object to the miscegenous relationship, most particularly her racist mother. Excellent performances from everyone; the sophisticated film succeeds on all levels.
| Name | Occupation | Birth | Death | Known for |
| --- | --- | --- | --- | --- |
| Ivan Dixon | Actor | 6-Apr-1931 | 16-Mar-2008 | Sgt. Kinchloe on Hogan's Heroes |
| Wallace Ford | Actor | 12-Feb-1898 | 11-Jun-1966 | A Patch of Blue |
| Elizabeth Hartman | Actor | 23-Dec-1943 | 10-Jun-1987 | A Patch of Blue |
| Sidney Poitier | Actor | 20-Feb-1927 | | In The Heat Of The Night |
| John Qualen | Actor | 8-Dec-1899 | 12-Sep-1987 | The Grapes of Wrath |
| Shelley Winters | Actor | 18-Aug-1920 | 14-Jan-2006 | Method actress and camp queen |
CAST
REVIEWS
Review by anonymous (posted on 9-Jul-2006)
I remember watching this film for the first time as a small child in the evening. To this day I shan't forget that frightening scene whereby the bottle of what I believe to be peroxide was thrown hitting the little girl in the face and causing her blindness. The movie tells of what true dysfunctional humanity is and the courage it takes to overcome the societal handicaps that are often encountered in real life. It is a movie that portrays innocence and the need to experience unconditional love. It's a film that accurately explains that the feeling of love doesn't need to distinguish colours in order to be seen. The blind white girl becomes a woman who is treated not much more than a slave to her white mother. Mr. Portier character is treated little more than a free blackman in an ethnocentric world. Throughout the film there seems to be a sexual tension between the young white blind woman and the slightly older blackman throughout the film. The film doesn't progress in that direction. A certain taboo for the era. What does progress is Mr. Portier's character has a genuine empathy for the young white blind woman to see that she is given the chance to reach her full potential by attending a special school even at the risk of him taking her himself. The cover, which the blackman was safe to show his innate kindness, was the woman's blindness. Ms. Winters, in her day, was a very sexy looking woman. She played the mother in this film wonderfully. Her character's prejudice is most apparent when she realises that the companion her blind daughter is taken about in the park is a blackman. I was saddened to learn of her passing this year. She will be missed.
---
Review by lisbon2001 (posted on 3-Mar-2005)
Touching glimpse into humanity. Proper care and attention are given to all aspects of the film. Nothing is overdone. Subtle and beautiful. The relationship between Poitier and Hartman is developed with great sensitivity. Reminded me of another film of the same era -- Sundays and Cybele. A must see for anyone.
---
Do you know something we don't?
Submit a correction or make a comment about this profile

Copyright ©2019 Soylent Communications