Sneakers (9-Sep-1992)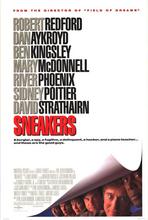 Director: Phil Alden Robinson
Writers: Phil Alden Robinson; Lawrence Lasker; Walter F. Parkes
Music: James Horner
Producers: Walter F. Parkes; Lawrence Lasker
Keywords: Comedy, Thriller, Hacking, Cryptography, Mathematics




A group of computer security experts, former hackers now hired for routine penetration tests, are hired by the NSA to snatch a blackbox device from a mathematician; they later realize that what they have stolen may be far more dangerous than they had been led to believe. Entertaining but flawed espionage/hacking comedy thriller, in the vein of a Mission: Impossible; since 1992 it has aged reasonably well.
CAST
Dan Aykroyd
... Mother
Ben Kingsley
... Cosmo
Mary McDonnell
... Liz
River Phoenix
... Carl
Sidney Poitier
... Crease
David Strathairn
... Whistler
Timothy Busfield
... Dick Gordon
George Hearn
... Gregor
Eddie Jones
... Buddy Wallace
Stephen Tobolowsky
... Dr. Werner Brandes
Jojo Marr
... College-Aged Cosmo
Gary Hershberger
... College-Aged Bishop
Robert Redford
... Bishop
Bodhi Elfman
... Centurion S&L Night Guard
Denise Dowse
... Bank Teller
Hanyee
... Bank Secretary
Time Winters
... Homeless Man
Jun Asai
... Piano Prodigy
Donal Logue
... Dr. Gunter Janek
Lee Garlington
... Dr. Elena Rhyzkov
John Shepard
... Coolidge Institute Guard
Ellaraino
... Mrs. Crease
Shayna Hollinquist
... Melissa Crease
Dayna Hollinquist
... Melissa Crease
Jacqueline Brand
... Kiev String Quartet
Julie Gigante
... Kiev String Quartet
Victoria Miskolczy
... Kiev String Quartet
David Speltz
... Kiev String Quartet
Leslie Hardy
... Gregor's Date
John Moio
... Gregor's Chauffeur
James Craven
... FBI Agent
R. C. Everbeck
... 2nd FBI Agent
Ernie Tetrault
... TV Anchorman
Lori Hall
... NSA Phone Operator
George Kee Cheung
... Chinese Restaurant Singer
Hayward Soo Hoo
... Chinese Restaurant Waiter
Michael Kinney
... Playtronics Desk Guard -- Day
Rudy Francis Nemetz
... Playtronics Desk Guard -- Day
Ralph Monaco
... Playtronics Lobby Guard -- Day
Paul Jenkins
... Playtronics Lobby Guard -- Night
Al Foster
... Playtronics Desk Guard -- Night
George Hartmann
... Playtronics Stairwell Guard
Jeffrey Daniel Phillips
... Playtronics Perimeter Guard
Michael Boston
... Playtronics Perimeter Guard
Anthony Winters
... Male NSA Agent
Jeff Joy
... Male NSA Agent
Amy Benedict
... Female NSA Agent
James Earl Jones
... Mr. Bernard Abbott
REVIEWS
Review by TennArtLady (posted on 27-Sep-2007)
A real "sleeper" - I found this amazing film by accident on one of those nights when you've seen all the new titles so you cruise the aisles of the video store hoping to find something good you might have overlooked, and that's exactly what happend - I was NOT dissapointed! I had never heard of the title, but loved the cast and storyline, so decided to give it a try, and WOW, it has turned out to be one of the smartest movies on many levels, and made my top ten list of all-time favorite movies! Extremely clever beginning has you tricked into thinking you're witnessing another slick bank robbery flick,(spoiler here - skip the remainder of this paragraph if you don't want to know the main storyline ahead of time)... only to be blown away by the main story- Redford & Co. are running a class act security company and are only showing the bank how easily they can be robbed by Reford having just done so. They get the job of updating the bank's security system, and on the story goes. Soon after, you discover a back-plot revolving around incidents occuring during Redford's college days. Enter a truly sinister character, well-played by the always talented Ben Kingsley, and you have a real winner. If you get the chance, rent it - and if you see this in the $5 TO $10 bargain bin, as I did a few years ago at Walmart, BUY IT - it's worth the $10 or so to add to your collection, not only because it's worthy of watching over & over again, but it's definitely one you'll want to share with your friends. You don't have to be a computer geek to appreciate this really well-written drama-turned-action movie with a just the right blend of comedy and romance. The richness of the cast, tender moments and deep drama will keep you entertained with great stunts that will have you holding your breath on the edge of your seat til the film's end! LOVED IT!!!
---
Do you know something we don't?
Submit a correction or make a comment about this profile

Copyright ©2019 Soylent Communications