Magnolia (8-Dec-1999)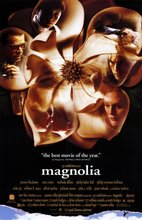 Director: Paul Thomas Anderson
Writer: Paul Thomas Anderson
Keywords: Drama, Los Angeles




Ensemble drama follows a group of interconnected characters as they seek love and purpose in their San Fernando Valley-dwelling lives.
ABSTRACT
Set over twenty-four hours in Los Angeles, California, Magnolia centers on two men estranged from their respective children (a misogynist young man and a cocaine-addicted woman) and each nearing death, following their storylines as they profoundly impact the purpose and love lives of others living in the City of Angels.
REVIEWS
Review by Martin Grooms (posted on 4-Jul-2007)
Going into magnolia i had high expectations just frm looking at the cast list. A film that attracts the star power of Tom Cruise with the acting talent of Julianne Moore, John C.Reilly, William H.Macy and Phillip Seymour Hoffman already has hit written all over it before shooting even starts. Luckily for all involved Magnolia lives up to everything such a cast list promises and the some. From the opening explanation about chance and coincidence to the frog splattered finale,Magnolia takes us into the lives of a group of seemingly unconnected people all living different lives, but, as the film progresses, we see these peoples lives intertwine.From bed-ridden Earl and his regretful goldigger wife Linda and Earls carer Phil to his estranged chauvinist son Frank T.J Mackey, from ex quiz kid Donnie Smith to the popular gameshow host Jimmy Gator. We see these peoples lives and the loneliness experienced by them,from trying to reconcile with an abused child to trying to cling on to a childhood of success. You can understand why Paul Thomas Anderson is considered one of the best young directors in Hollywood when you watch this epic of the human condition. Its hard to pick a stand out turn amongst the actors as everyone delivers above par performances. A film that Anderson will strive to better and for the sake of the movie industry i hope he does because the film that tops this one will definitely be worth watching.
---
Review by Peter Mehit (posted on 30-Jul-2010)
'Magnolia' is about three excellent movies. All together, it is somewhat ponderous, however. The themes of randomness and chance are well thought out in each of the story lines. The acting is competent and moving. The one continuous long shot of the young game show contestant is reminiscent of Jake LaMotta's entry into the ring in 'Raging Bull' The dialog is strong and direct. It's the weaving of all of these story lines: Earl and Linda Partridge and the Caretaker with Frank Mackey and Jimmy Gator with the Game Show Whiz with the cop and Jimmy's daughter... you get the picture. It would have been a great season of an killer HBO show. I still love the film because it has so many excellent moments. It has a lot of truth in it. I guess I prefer ponderous to vacuous.
---
Review by Walter Frith (posted on 9-Jun-2007)
'Hard Eight' and 'Boogie Nights'. 1996 and 1997 were good years for director Paul Thomas Anderson. Two films that established him as a hard boiled and progressive film maker. His influential style, that of a young Robert Altman, was breath taking to behold. Particularly 'Boogie Nights'. A film which spanned six years and gave us an evenly balanced look at several characterizations and the film knew where its high points and low points were. The decibel level was right on the money. My, how things change. 'Magnolia' is an over stuffed stinker that reeks with pretentious situations and over written scenes of ulcerating ugliness. It does this from its opening scene and tries to explain that co-incidence and unlikeliness are the most bizarre facts of life The most depressing film I've ever seen is 1998's 'Affliction'. Superb acting from all (including James Coburn's Oscar win for Best Supporting Actor) but the film had a strange and curious path of familiarity for many families and the picture concentrated itself on the actions of only a few major characters. I said in my review that while being truthful, that didn't seem to matter much because the overall purpose of film is to entertain and I questioned the entertainment value of such a film and a similarly depressing film from 1998 entitled 'A Simple Plan' which suffered from the same fate and while recommending that film, I like it less and less the more I think about it. I had to debate for almost a week and finally gave 'Affliction' a marginal recommendation for its stain of genuine emotional truth. 'Magnolia' also makes the mistake of trying to bombard the screen with too much over the top material that it loses track of its entertainment value. The film is like being grabbed by an octopus and pulled in so many directions that you're exhausted after finally escaping, the equivalent of leaving the theatre for movie goers. Leaving 'Magnolia' is indeed an escape rather than a departure. The film's glib symmetry will be mistaken by some as high powered drama but it suffers from an ending which goes against the first rule of screen writing. I call it the 'red herring' factor. A final scene that is out of left field with no warning given to the audience and is a ridiculous and cheap way to end all it thinks its accomplished. The story is an ensemble piece that shows the lives of about a dozen characters, some of whom aren't worth mentioning because their scenes are so one dimensional. Senior to the film is Jason Robards, a dying man named Earl Partridge who is trying to contact his long lost son Frank (Tom Cruise) who has changed his last name to Mackey and wants nothing to do with the dying spirit of his father after being contacted by Earl's home care worker (Philip Seymour Hoffman). Frank Mackey is a kind of manipulative motivational speaker. He tries to expand other men's horizons in the sexual universe by telling them what sex really is and how to use it to get members of the opposite gender to fall immediately for them. His seminars come complete with a spotlight, head set microphone and flashy wardrobe. Some good work here by Cruise, but I hope the members of the Academy don't give him an Oscar for it. If they do, it will be in part, a sympathy vote to compensate Cruise for the ridiculous amount of time he spent making 'Eyes Wide Shut'. Sure, a great film in the end and one of the best of 1999 but a film that could have been made in only a few months. Earl Partridge is also filled with regret for marrying an uncaring and unloving woman named Linda (Julianne Moore). A neurotic, maniacal female who hates her step son Frank. Meet Jimmy Gator (Philip Baker Hall). He is the host of a game show where a group of kids on one side, take on a group of adults on the other and all the trappings of the game show world are explored in such a manner as to leave the most foul taste in your mouth after it's all over. Jimmy is dying and only has a couple of months left to live and tries to make amends with his wife (Melinda Dillon) and his drug addicted daughter (Melora Walters), who is about to warm up to a police officer (John C. Reilly). Then there is the most boring of the stories involving a former child genius (William H. Macy) as a loser who works at a job he is too overqualified for. Was William H. Macy trying to top himself by playing a loser similar to the one he played in his Oscar nominated role in 'Fargo'. You won't top that one, Billy! What is most shocking about 'Magnolia' is how it uses its music score. The music literally goes on for so long that it obliterates the senses and doesn't know when to quit. The audience I saw it with was stone faced throughout its ridiculous running time of three hours and gasps of shock and disbelief hit the auditorium during the unlikely climax. What little there is to rave about in some of the performances, notably Cruise and Reilly, is drowned out by a protracted chemistry among its cast and is comparable to having one of your teeth pulled without anesthetic and then needing all of your teeth removed because your dentist fouled up. In other words, the film sets off a chain reaction of dreariness you won't recover from anytime soon and you won't even care about its characters when it's all said and done. Visit FILM FOLLOW-UP by Walter Frith
---
Do you know something we don't?
Submit a correction or make a comment about this profile

Copyright ©2019 Soylent Communications