Mindhunters (19-Mar-2004)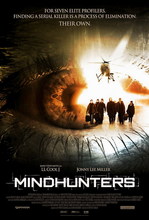 Director: Renny Harlin
Writers: Wayne Kramer; Kevin Brodbin
Music by: Tuomas Kantelinen
Producers: Jeffrey Silver; Bobby Newmyer; Cary Brokaw; Rebecca Spikings
Keywords: Crime




FBI operatives training to profile serial killers work to root out an actual murderer in their ranks.
ABSTRACT
Up-and-coming FBI trainees are shepherded to a weekend retreat by supervising official Jake Harris, heading to a deserted island for an exercise in profiling serial killers. When a number of trainees are actually murdered, however, the surviving participants must put their new skills to the test to pick a dangerous criminal out from amongst their ranks and save themselves.
CAST
REVIEWS
Review by mizi causevic (posted on 13-Feb-2005)
Before even writing this review, I thought about starting it with "I lucked out and saw this movie two months before it was released." However, after watching this film, I will just say this, stay away, and I do mean this, sincerely. You will hate yourself after watching it and also question whoever told you to see it.
It is beyond me how this movie got made. Granted, it could be an elite little TV movie, but nothing for big screen. I think if this movie did not have some well known movie stars... it would have never gotten made. I'll be honest and say that even before seeing this trailer, I wanted to see this flick because Christian Slater and Val Kilmer were in it, then I heard that Johnny Lee Miller (Hackers) was in it... so I figured, it has to be half way decent. Then of course I saw the trailer and noticed that LL Cool motherfuckin' J was in it and one thing came to mind "Whatever character LL plays, he will not die, because we all know... LL Cool J never dies in any of his movies." Just once, just once I'd like to see this dude take up a character that fucking dies in a movie. Don't get me wrong ladies and gents, but enough is enough. I dig LL, every since he did "I Need Love" back in the 80s, I realized that it is OKAY to be tough and soft at the same time. Luckily, I am not either one of those things so let's just stick to the fact that LL Cool J never dies in any of his movies so kind of wish I had someone near by when I was watching this movie because I could have made some serious dough. Anyway, I am not bashing LL, I like the guy, he's pretty elite, he just needs different roles.
For those of you who think Val Kilmer and Christian Slater make this movie... sorry to disappoint you, but they're in it for about ten minutes, if that. I guess you are pretty much waiting for me to say why this movie sucked. Well, let's just say that I am personally sick and tired of those recycled "whodunit" flicks. I really wanted to like it but it just didn't click. I am not even too sure about the special effects, some of them were decent and some seemed entirely way too old. Another important thing to mention is that whoever was fully behind the script, (aside of the writer), fucking HATES cats. You will understand why after seeing this movie. I myself, just so happened to enjoy pussy, I mean kitties, and I was sickened by the way they were displayed in this movie. Once again, this had nothing to do with the fact that the movie is no good. The story is somewhat interesting, but like I mentioned above, the whole 'whodunit' shtick is getting quite old. If I wanted to see an elite thriller of this caliber, I would have rented The Game or something along that flick. Mindhunters unfortunately did not fully grab my attention even with a very likable cast, and I cannot even bring myself to mention the last line of the movie that was said by none other than Mr. Cool himself, LL. Not only did this line activate the 'cheese/lame' mode in my infected brain but it also made me turn my head to the side. So there you have it, another flop, do yourself a favor and save your money and spend it on something that is actually worthy.
---
Do you know something we don't?
Submit a correction or make a comment about this profile

Copyright ©2019 Soylent Communications