The Thief of Bagdad (18-Mar-1924)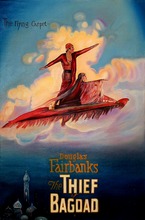 Director: Raoul Walsh
Writers: Achmed Abdullah; Douglas Fairbanks, Sr.; James T. O'Donohoe; Lotta Woods
Producer: Douglas Fairbanks, Sr.
Keywords: Action/Adventure




A tale of the Arabian Nights. Douglas Fairbanks is a thief: "What I want, I take." He and an associate break into the Caliph's palace, but the real treasure is the Caliph's daughter. Fairbanks must find a suitable gift to pay proper tribute and win her heart. On a budget of $2M, the most lavish fantasy production of its era.
CAST
Douglas Fairbanks, Sr.
... The Thief of Bagdad
Snitz Edwards
... His Evil Associate
Charles Belcher
... The Holy Man
Julanne Johnston
... The Princess
Anna May Wong
... The Mongol Slave
Winter-Blossom
... The Slave of the Lute
Etta Lee
... The Slave of the Sand Board
Brandon Hurst
... The Caliph
Tote Du Crow
... The Soothsayer
Sojin
... The Mongol Prince
K. Nambu
... His Counselor
Sadakichi Hartmann
... His Court Magician
Noble Johnson
... The Indian Prince
Mathide Comont
... The Persian Prince
Charles Stevens
... His Awaker
Sam Baker
... The Sworder
Jess Weldon
... Eunuch
Scotty Mattraw
... Eunuch
Charles Sylvester
... Eunuch
REVIEWS
Do you know something we don't?
Submit a correction or make a comment about this profile

Copyright ©2019 Soylent Communications