Paradise, Hawaiian Style (9-Jun-1966)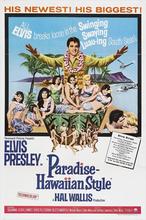 Director: Michael Moore
Writers: Allan Weiss; Anthony Lawrence
Music Scored and Conducted by: Joseph J. Lilley
Producer: Hal B. Wallis
Keywords: Musical Comedy, Hawaii




Elvis and a buddy try to set up a helicopter charter company in Hawaii. Plus girls and songs. The plot is thin and the Elvis is pudgy; it does not help that he phones in his performance. Superb scenery of the islands.
| Name | Occupation | Birth | Death | Known for |
| --- | --- | --- | --- | --- |
| Philip Ahn | Actor | 29-Mar-1905 | 28-Feb-1978 | Early Korean-American actor |
| Doris Packer | Actor | 30-May-1904 | 31-Mar-1979 | The Many Loves of Dobie Gillis |
| Elvis Presley | Singer | 8-Jan-1935 | 16-Aug-1977 | Rock and roll icon |
| James Shigeta | Actor | 17-Jun-1933 | 28-Jul-2014 | Flower Drum Song |
| Grady Sutton | Actor | 5-Apr-1906 | 17-Sep-1995 | The Bank Dick |
| Mary Treen | Actor | 27-Mar-1907 | 29-Jul-1989 | It's A Wonderful Life |
CAST
Elvis Presley
... Rick Richards
Co-Starring
Suzanna Leigh
... Judy Hudson
James Shigeta
... Danny Kohana
Donna Butterworth
... Jan Kohana
Marianna Hill
... Lani Kaimana
with
Irene Tsu
... Pua
Linda Wong
... Lehua Kawena
Julie Parrish
... Joanna
Jan Shepard
... Betty Kohana
John Doucette
... Mr. Belden
Philip Ahn
... Moke Kaimana
Mary Treen
... Mrs. Belden
Grady Sutton
... Mr. Cubberson
Doris Packer
... Mrs. Barrington
Don Collier
... Andy Lowell
Gi Gi Verone
... Peggy
REVIEWS
Review by Nick (posted on 5-Aug-2007)
I'm a modern jazz fan, don't like Presley, but I got up this morning, turned on the TV and found this Presley rerun had just started. Intending to change channels, I became engrossed by the performance of a little 10-year-old girl named Jan. What a star! She was not only beautifully attractive, but one could immediately discern her talent, whether acting or singing. As a matter of fact, her vitality at such a tender age reminded me of an earlier star -- Betty Hutton. Many have said this movie was a bomb, but, despite its age, the photography of Hawaiian scenery, plus the precociousness of Jan, saves this movie from oblivion. I needn't tell you it was love at first sight when I visited Hawaii for the first time in 1962 when Hawaii was Hawaii (I've been back six more times and both my kids were married there), so the backdrop interested me no end. Getting back to Jan, when the movie finished I read the cast and found out that "Jan" was Donna Butterworth. Looking up her name on the Internet, I found little about her, but apparently it was her second and last movie. Whatever happened to such talent? I understand she is married with children and still lives in Hawaii, where she was born (1/1/56 - Kailua), and took up songwriting. I'm sure she must have been successful because such talent could only bring success. So, one needs to look at a movie from all angles to critique it. The plot is said to be negligible, but what musical plot isn't. I enjoyed it and would see it again, if only to enjoy and admire the obvious and varied talent of that little 10-tear-old, Donna Butterworth.
---
Do you know something we don't?
Submit a correction or make a comment about this profile

Copyright ©2019 Soylent Communications