Double Indemnity (6-Sep-1944)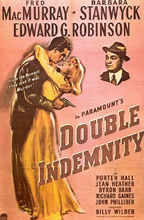 Director: Billy Wilder
Writers: Billy Wilder; Raymond Chandler
From novel: Double Indemnity by James M. Cain
Music Score: Miklos Rozsa
Keywords: Crime, Film Noir, Los Angeles, Insurance Money




Walter Neff is an insurance salesman, manipulated by the sultry and seductive Phyllis Dietrichson into a scheme of insurance fraud and the murder of her husband. What they failed to include in their calculations was the diligence of claims manager Keyes. Film noir told in flashback. Received nominations for 7 Oscars, including Best Picture, Best Actress, Best Director, Best Screenplay, Best Cinematography and Best Score.
CAST
REVIEWS
Review by Mark J. Shallow (posted on 12-Dec-2008)
This is, arguably, the very best example of film noir to come out of Hollywood in the forties. By making elegant use of everything from costumes (e.g. Walter Neff's black hat) to the weather (e.g. Walter and Phyllis plot their scheme on a rainy evening),director Billy Wilder has put the dark emotions of the two principal characters out in the open where they can be plainly seen. The dialogue is crisp, with nary a wasted word. This story of two ordinary people enmeshed in a most extraordinary and sinister adventure is a stunning portrait of the lengths humans may be driven to by greed and lust. Fred MacMurray, known mostly as a light comedian, turned in a flawless, flinty performance as Walter Neff, a cog in the huge wheel of an insurance company who knew that the biggest payoff involved the biggest risk. Barbara Stanwyck as the cool and calculating Phyllis oozes malevolent ambition and stony indifference to one and all (including Walter). Edward G. Robison as the wise and long-suffereing Claims Manager, Barton Keyes, turns in his richest characterization ever and shows the audience that his range as an actor extended far beyond the grainy gangster films he appeared in for over a decade. In the end, it is plain to see that the real "love story" hear is not abour Walter and Phyllis, but about Walter and Keyes. It is in no way a romantic story, but one that is nonetheless real between two men who have an abiding personal regard and affection for each other. The very best dialogue in the film is found in the one-on-one scenes between Neff and Keyes.
---
Do you know something we don't?
Submit a correction or make a comment about this profile

Copyright ©2019 Soylent Communications