Ride the High Country (20-Jun-1962)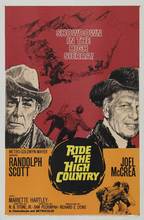 Director: Sam Peckinpah
Writer: N. B. Stone, Jr.
Music Composed and Conducted by: George Bassman
Producer: Richard E. Lyons
Keywords: Western




Former lawman Steve Judd is tasked with the high-risk transportation of gold from a high-country mining camp to the town bank; he hires an acquaintance, Gil Westrum, also once a lawman, and drifter Heck Longtree to accompany him. But not only do others covet this gold, a doublecross is planned. Early Peckinpah effort shot in only 26 days, yet one of his finest westerns. Entered 1992 into the National Film Registry.
[watch trailer]
CAST
REVIEWS
Review by anonymous (posted on 12-Mar-2005)
To those of us who grew up in the 50's, I was 15 years old when this movie was released, we love the "Western". our Saturday afternoons were shared in a darken theatre watching the silver screen hero's. Ride The High Country the last truly great Western movie. Like its heroes Randolph Scott and Joel McCrae, the genre was fading rapidly at this stage. The plot was simple: hero McCare clinging to old time principles while aging partner wants one big score to retire with some dignity. The stature of both actors carry what might have been a mediocre piece in lesser hands. These high riding heroes faded along with this movie never to be seen again. I highly reccommend one last nostalgiac trip down a dusty trail with old friends, to a time when all cowboys wore white hats or black hats and never lost them in a fight. To a time where right and wrong was well defined and the hero never was tempted to cross that line.
---
Review by Fred D. Debes (posted on 6-Jul-2007)
Like the author of this article, I was in my middle teens when this movie was first shown. I had always been a western movie fan, learning this addiction from my grandfather. But I honestly don't remember seeing the film at that time. I didn't enjoy it until I was in my 40's or so. It is now one of my all-time favorites, ranking right up there with Tombstone and High Noon. I believe both leads in this film were at their best. I believe the film ranks high in several areas, but perhaps most when it deals with honor. One never lost it. One forgot it for a time. But both left lasting memories for me in their respective parts. And seldom has a film dealt better with lasting friendship, regardless of differences. And that friendship lasted until the very end, something I hope to enjoy in this life. Sadly, our society has lost most of its desire for films of this type. Those who have, are missing out on lessons to be learned, and behavior to emulate. But there are a few of us who still cling to the ideals of friendship, honesty, and a character built on strength such as these two showed in one of the great westerns of all time.
---
Do you know something we don't?
Submit a correction or make a comment about this profile

Copyright ©2019 Soylent Communications