Predator (12-Jun-1987)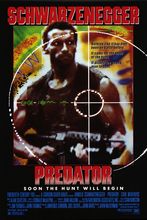 Director: John McTiernan
Writers: Jim Thomas; John Thomas
Music: Alan Silvestri
Producers: John Davis; Lawrence Gordon; Joel Silver
Keywords: Sci-Fi/Horror, Rescue Mission, Explosions




Commandos sent to rescue a diplomat held hostage in Central America fall prey to the Predator, an extraterrestrial big game hunter playing its own version of The Most Dangerous Game (1932). Exceptional action film whose cast includes two future state governors. Received an Oscar nomination for Best Visual Effects, and a Hugo nomination for Best Dramatic Presentation.
[watch trailer]
CAST
REVIEWS
Review by Noel Coward (posted on 1-Aug-2007)
Let's cut through the gristle and get to the heart of the matter. There's a new guy in the sweltering jungle and he wants to explore the moist, tender regions of Arnold's granite physique. And he's willing to filet Arnold's Mignons just so Arnold gets the point. But Arnold's always been the spindle, never the bobbin. No Johnny-come-from-seven-light-years-away is going to prise Arnold's prize. Arnold goes the symbolic route by dropping a huge section of log (these giant, sawn segments of log are prolific in most jungles) onto the alien with enough force to make said alien mostly a new orifice. The moral of the story is that Earth testosterone rules, even if it has to be administered intramuscularly.
---
Review by anonymous (posted on 14-Apr-2005)
A very tense, gutsy, gory movie about a Rescue team of Rangers headed by Arnold Schwarzenneger who are inserted clandestinely by helicopter to find out what happened to another insertion team that had gone in before and had not be heard from since. It is assumed they were captured by Guerillas or Insurgents. What they find are corpses stripped of their flesh, hanging upside down from trees. They manage to trace the survivors to a rebel camp, and they see one of them shot in the head, which really enrages the team...they raid the compound and kill most everything that moves. Watching all this , through it's eyes and ears, is the Alien from another world. He has a cloaking device which renders him invisible to humans. One by one the team is killed as they try to get back to the pickup point. Of course they are killed in very spectacular fashion. It comes down to "Dutch" ( Arnold Schwarzenneger) to deal with the Alien on his terms, which he does...He rigs a booby trap and then yells his challenge in a primal yell and the Alien hears him and heads for the final conflict. Well, if there was any human that could beat The Predator, you know who can do it.... They meet and beat the heck out of each other until Arnie sets loose a trap that crushes the Predator. He isn't quite dead yet, so he opens his bag of tricks on his arm, pushes a few buttons, and starts laughing. Dutch runs like hell and is just far enough away from the fight scene when the nuclear blast goes off, killing the Predator, and throws Dutch a long ways. Naturally he survives with lots of cuts and bruses to show for his efforts. The first time this movie is viewed it leaves you emotionally disturbed, as the tension in the movie is great. It is one of the better movies I have seen Arnie Schwarzenneger in, and it is worth watch over and over...if for no other reason to pick out what you missed the first several times through.. Get this movie and enjoy it over and over...it's great....
---
Review by anonymous (posted on 18-Aug-2005)
In this 1987 John McTiernan film, about a squad of special forces commandos in Central America, sent to rescue hostages from a pro-Russian Central American base, however an extraterrestial hunter stalks them along the way. Starring Arnold Schwarzenegger, Carl Weathers, Jesse "The Body" Ventura, Bill Duke, Richard Chaves, Sonny Landham, and Shane Black, as the squad, and Kevin Peter Hall as the monstrous 7'4 predator. (Makes Arnold look tiny) This is tied for the greatest Arnold movie ever, the special effects are amazing for the obsolete technology at the time, made on such a low budget, it's one liners are brilliant, Jesse Ventura's minigun action, and hilarious opinions are great. When the entire squad is killed with the exception of Arnold, he learns the alien's weaknesses, and fights in a fierce 1 on 1 duel with him. Ultimately winning of course. This brilliant film is as magical today as it was in 1987, the special edition DVD is terrific and should be viewed by everyone.
---
Do you know something we don't?
Submit a correction or make a comment about this profile

Copyright ©2019 Soylent Communications