The Brave One (6-Sep-2007)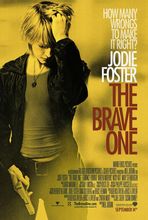 Director: Neil Jordan
Writers: Roderick Taylor; Bruce A. Taylor; Cynthia Mort
Music by: Dario Marianelli
Producers: Joel Silver; Susan Downey
Keywords: Drama, New York, Harlem




A middle-aged woman becomes obsessed with revenge after she is brutally attacked in a park.
ABSTRACT
Erica Bain, a New York City radio show host enjoying life with fiance David and their dog, is attacked by three men after their pet is captured and held for ransom while running without a leash in Central Park. Erica awakens from a coma several days after being knocked unconscious to learn that David is dead and her dog is still missing; distraught beyond compare, she purchases an unlicensed handgun, slowly transforming into the same kind of individual she so heavily despises as she becomes a vigilante bent on revenge against violent criminals.
CAST
Jodie Foster
... Erica Bain
Terrence Howard
... Det. Mercer
Naveen Andrews
... David Kirmani
Carmen Ejogo
... Jackie
Nicky Katt
... Det. Vitale
Mary Steenburgen
... Carol
Lenny Venito
... Mortell
ZoŽ Kravitz
... Chloe
Jane Adams
... Nicole
Gordon MacDonald
... Murrow
Ene Oloja
... Josai
Luis Da Silva, Jr.
... Lee
Blaze Foster
... Cash
Rafael Sardina
... Reed
John Magaro
... Ethan
Victor Colicchio
... Cutler
Jermel Howard
... Thug on Subway
Dennis White
... Thug on Subway
Julia Garro
... Shauna Nelson
James Biberi
... Det. Pitney
Brian Delate
... Det. O'Connor
Dana Eskelson
... Sketch Artist
Angel Sing
... Gun Dealer
Yolande Bavan
... David's Mother
Ivo Velon
... James
Tina Sloan
... Stationery Saleswoman
Jaime Tirelli
... Pawn Shop Guy
Larry Fessenden
... Sandy Combs
An Nguyen
... Ida Combs
Brian Tarantina
... Gun Store Clerk
Michael Anthony Williams
... Subway Dad
Jesus Ruiz
... Chief of Detectives
Hope Adams
... Press Conference Reporter
Joseph Melendez
... Press Conference Reporter
Ted Neustadt
... Press Conference Reporter
Brett Berg
... Ethan's Friend
Jeffrey Manko
... Emergency Room Doctor
Mick Cunningham
... Precinct Cop
Lisa Joyce
... CPA Worker
Tom Greer
... Desk Cop
David Naizir
... Guy Outside Subway Station
Robert Michael McClure
... Sound Engineer
Tashya Valdevit
... Erica's Nurse
Lai-Si Fernandez
... Shauna's Friend
Moises Acevedo
... Reed's Runner
Dennis Johnson
... Reed's Runner
Jack Caruso
... Subway Detective
Jim Taylor McNickle
... Subway Detective
Rosanne C. Lucarelli
... Subway Reporter
Leif Riddell
... Subway Reporter
DeShaun Stallworth
... Subway Reporter
Michael J. Burg
... Elevator Man
Creighton James
... Elevator Man
Clayton Dean Smith
... Elevator Man
Barbara Gayle
... Elevator Woman
Anna Margaret Hollyman
... Elevator Woman
Lily Mercer
... Elevator Woman
Musto Pelinkovicci
... Russian Cab Driver
Dean Meminger
... NY1 Reporter
Cheryl Wills
... NY1 TV Anchor
REVIEWS
Review by David E. Screws (posted on 29-Sep-2007)
Foster's portrayal of Erica Baines is phenomenal; a woman consumed by her tremendous loss to the point that she takes the law into her own hands. Baines is obviously aware that her actions are wrong, but she cannot stop them because she possesses the weaknesses of most of us human beings. Any of us who have not lived through such an experience cannot completely identify with Baines, but we secretly urge her onward in her mission. At the least, this role should be another Oscar nom for Foster. She clearly held the audience spellbound. Possibly even a supporting role nomination for Mercer, who managed to convince the audience that he would never cross the line between right & wrong, but does so in the end. To top things off, Jodie Foster is still one of the most gorgeous actresses on screen today, and her skillful portrayal of the besieged Erica Baines is nothing short of riveting.
---
Review by Florence (posted on 5-Nov-2008)
Jodie Foster, per her usual skill and dedication, presented wonderfully (of course 5 stars). The premise of the film may have been a bit predictable, except having a female as the lead presented the originality needed to maintain interest to the very end. However, I felt the pushed romance (total lack of chemistry) between Foster and the male character added nothing whatsoever to the overall content and message of the film of an individual crossing that lawful line of "going after the bad guys" and the flashback scenes between them spoiled the five star rating the film could have gotten. Foster has played excellent leading, powerful roles as a straight woman without straining the issue with filler scenes of romantic encounters--and that works. The other weakness of the film is in the push to be inclusive of race and culture which overshadows the main theme; why isn't it enough that it is a female vigilante?
---
Do you know something we don't?
Submit a correction or make a comment about this profile

Copyright ©2019 Soylent Communications