Back Street (11-Oct-1961)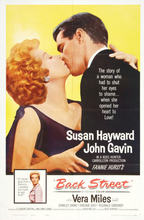 Director: David Miller
Writers: Eleanore Griffin; William Ludwig
From novel by: Fannie Hurst
Keywords: Drama




Fashion designer Rae Smith meets and falls in love with Paul Saxon, a Marine passing through town at the end of WWII, who is also scion of a department store family. He is, however married; after several brushes Rae becomes his mistress. Good story line though loaded with clichés; Susan Hayward and Vera Miles are good in this glossy soap opera; John Gavin is handsome as Saxon but turns in a wooden performance. Jean Louis received an Oscar nomination for Best Costume Design. Fannie Hurst's novel was produced earlier as Back Street (1932) and Back Street (1941).
| Name | Occupation | Birth | Death | Known for |
| --- | --- | --- | --- | --- |
| Charles Drake | Actor | 2-Oct-1917 | 10-Sep-1994 | You Never Can Tell |
| Reginald Gardiner | Actor | 27-Feb-1903 | 7-Jul-1980 | English-American character actor |
| John Gavin | Actor | 8-Apr-1928 | 9-Feb-2018 | Julius Caesar in Spartacus |
| Virginia Grey | Actor | 22-Mar-1917 | 31-Jul-2004 | Hullabaloo |
| Susan Hayward | Actor | 30-Jun-1918 | 14-Mar-1975 | I Want to Live! |
| Dick Kallman | Actor | 7-Jul-1933 | 22-Feb-1980 | Hank |
| Vera Miles | Actor | 23-Aug-1929 | | The Searchers |
| Hayden Rorke | Actor | 23-Oct-1910 | 19-Aug-1987 | Dr. Bellows on I Dream of Jeannie |
| Natalie Schafer | Actor | 5-Nov-1900 | 10-Apr-1991 | Mrs. Howell on Gilligan's Island |
REVIEWS
Review by Linda (posted on 15-Jul-2007)
This is one of my favorite old movies. I can't remember the first time I saw it, but it was in a theatre and everyone around me was crying. I haven't been able to find it on Netflix or TCM, but I would love to have a copy of it - even a VHS copy. I did manage to rent it once years ago and showed it to my teenage daughter. At the end she said" Mom, why didn't you tell me I was going to cry so hard?". She later rented it and showed it to a dorm fuil of college girls and they loved it. They couldn't believe they had never heard of it. We women love to cry at movies, and this one really provides a wonderful opportunity. Even on TCM website this movie is not listed under Susan Hayward's credits. I don't understand why it is not more well known. And of course, John Gavvin is so georgeous that even if he was a "wooden" actor (as some critics say) who cares when he looks like that? But he was very believable in this role as a lonely husband of a drunken snob.
---
Review by Simply Smitten (posted on 6-Jul-2007)
I watched this movie as a teenager and was just in awe of JOhn Gavin. I didn't know who he was until I saw "Back Street". After that, I made a point of seeing him perform in the "Fanstastics" and he was wonderful. I got a good view of him and let me tell you, he was a gorgeous looking man in person. The pairing of Susan Hayward and John Gavin was wonderful. They brought the characters to life, she a woman unsure of her talents and he, a man torn between loyalty and the yearning of his heart. I was very much touched by the movie and it is still today one of my favorite movies. This was a good movie for John Gavin to perform in. I wish they still made these kind of movies, but unfortunately, the quality of the stars today pales with the stars of yesterday. I was fortunate to find the VHS and cherish it.
---
Review by mary (posted on 8-Feb-2005)
Movies made today, will never equal to the movies from years ago. My mother loved this movie and I may love it more than she did. I have the VHS copy of it and could watch over and over.
Susan was so beautiful and of course John Gavin so handsome. It was just a wonderful love story. I like it more so than An Affair to Remember (considering that is an all time favorite for many).
Susan's character was written with such class even though she was carrying on an affair with a married man. John was a victim of a destroyed marriage caused by a drunken, jealous wife. You wanted Susan and John to be together.
I just loved it and it is wonderful in black and white.
---
Review by anonymous (posted on 31-Dec-2006)
The movie "Back Street," was the movie that I always enjoyed watching with my mother and my sister. We would all cry so much through the movie that we would use a whole row of toilet paper during the movie and it's ending. My favorite part and I had many but my most favorite was the part where Susan Hayward was drawing John Gavin during one of there happiest moments, and then toward the ending, was when she had his children there in her home that Susan and John had picked out together. Susan was sitting in a chair with the children hugging her and the movie showing his picture drawing of him and Susan remembering and trying to change it all in her mind to that day at the airport and what it could have been if she had not been late to catch the plane with John Gavin. Yes, I loved that movie but I am not as lucky as the other reviewer who has a VHS movie to watch whenever. This is a classic movie of all times and I do hope that TCM will present this movie soon so I can hopefully watch it and maybe with my sister, my mother is no longer here to watch this wonderful movie but I know she will be in spirit while we watch.
---
Review by Stanley Hearn (posted on 3-Aug-2007)
My first inclination is to give this movie a lower score but I have to admit, I really enjoy this movie. It is definitely a soap opera tear-jerker, but Susan Heyward and Vera Miles performances are outstanding and John Gavin is no slouch either. The chemistry between Gavin and Heyward is great and Vera Miles is outstanding as the 'bad' wife. This movie has great scenes with Gavin and Heyward and moves quickly. It has been many years since I have seen it, so it is about time TCM puts it on.
---
Do you know something we don't?
Submit a correction or make a comment about this profile

Copyright ©2019 Soylent Communications