A Boy and His Dog (Mar-1975)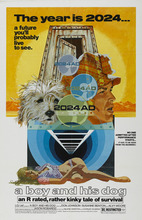 Director: L. Q. Jones
Writer: L. Q. Jones
From short story: A Boy and His Dog by Harlan Ellison
Keywords: Action/Adventure, Nuclear War, Dystopian, Dog




In post-apocalyptic Phoenix, a young Don Johnson is Vic, a nomadic 18-year-old boy with telepathic dog, Blood, whose abilities and good judgement are likely the only thing keeping the pair alive. Lured by a pretty girl into an underground society desperate for genetic new material, they find that the group has little other use for Vic or his dog. Won a Hugo for Best Dramatic Presentation, despite the fact that Harlan Ellison was not entirely happy with numerous aspects of the picture.
| Name | Occupation | Birth | Death | Known for |
| --- | --- | --- | --- | --- |
| Don Johnson | Actor | 15-Dec-1949 | | Miami Vice, Nash Bridges |
| L. Q. Jones | Actor | 19-Aug-1927 | | Battle Cry |
| Charles McGraw | Actor | 10-May-1914 | 30-Jul-1980 | Armored Car Robbery |
| Alvy Moore | Actor | 5-Dec-1921 | 4-May-1997 | Hank Kimball on Green Acres |
| Jason Robards | Actor | 26-Jul-1922 | 26-Dec-2000 | All The President's Men |
REVIEWS
Review by anonymous (posted on 7-Jul-2006)
Strange and funny- an oddly entertaining sci-fi film, even to this day. For DJ fans, it is alot of fun to see him so incredibly youthful. His boyish good looks (he is 25 in this film) were not yet "leathered" by the years of excessive booze and drugs. Johnson is in virtually every frame, and shows his capacity as a leading man. DJ is still an outstanding tv personality. He could have been a first-class box office movie idol, and this funny, off-beat movie shows the promise he never really lived up to.
---
Do you know something we don't?
Submit a correction or make a comment about this profile

Copyright ©2019 Soylent Communications