The Parallax View (14-Jun-1974)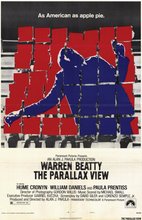 Director: Alan J. Pakula
Writers: David Giler; Lorenzo Semple, Jr.
From novel: The Parallax View by Loren Singer
Keywords: Thriller, Assassination, Journalism, Hitman, Corporate Crime, Explosions




An inquiry into the assassination of a U.S. Senator determines the killer was a lone gunman, absent any conspiracy. A witness becomes alarmed when she notices that over time, her fellow witnesses are dying at an alarming rate; she brings her concern to Joe Frady, her journalist ex-boyfriend. One of the best paranoid thrillers from the 1970s.
[watch trailer]
| Name | Occupation | Birth | Death | Known for |
| --- | --- | --- | --- | --- |
| Warren Beatty | Actor | 30-Mar-1937 | | Dick Tracy |
| Richard Bull | Actor | 26-Jun-1924 | 3-Feb-2014 | Nels on Little House on the Prairie |
| Hume Cronyn | Actor | 18-Jul-1911 | 15-Jun-2003 | Cocoon |
| William Daniels | Actor | 31-Mar-1927 | | Voice of K.I.T.T. on Knight Rider |
| Jim Davis | Actor | 26-Aug-1909 | 26-Apr-1981 | Jock Ewing on Dallas |
| Jo Ann Harris | Actor | 27-May-1949 | | The Beguiled |
| Earl Hindman | Actor | 20-Oct-1943 | 29-Dec-2003 | Elusive neighbor on Home Improvement |
| Kenneth Mars | Actor | 14-Apr-1936 | 12-Feb-2011 | The Producers |
| Bill McKinney | Actor | 12-Sep-1931 | 1-Dec-2011 | Deliverance |
| Paula Prentiss | Actor | 4-Mar-1938 | | What's New, Pussycat? |
| Ford Rainey | Actor | 8-Aug-1908 | 25-Jul-2005 | Window on Main Street |
| Edward Winter | Actor | 3-Jun-1937 | 8-Mar-2001 | Col. Flagg on M*A*S*H |
REVIEWS
Do you know something we don't?
Submit a correction or make a comment about this profile

Copyright ©2019 Soylent Communications