Happy Gilmore (16-Feb-1996)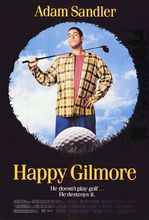 Director: Dennis Dugan
Writers: Tim Herlihy; Adam Sandler
Music by: Mark Mothersbaugh]
Producer: Robert Simonds
Keywords: Sports Comedy, Golfing




Happy Gilmore, failed hockey player whose only accomplishment is the record for most time in the penalty box, discovers a previously unrealized talent: that he can propel a golf ball 400 yards. He enters a PGA tournament to raise money before the IRS seizes his grandmother's house. Probably the archetypal Adam Sandler film, if that means anything.
CAST
Adam Sandler
... Happy Gilmore
Christopher McDonald
... Shooter
Julie Bowen
... Virginia
Frances Bay
... Grandma
Carl Weathers
... Chubbs
Allen Covert
... Otto
Robert Smigel
... IRS Agent
Bob Barker
... Himself
Richard Kiel
... Mr. Larson
Dennis Dugan
... Doug Thompson
Joe Flaherty
... Jeering Fan
Lee Trevino
... Himself
Kevin Nealon
... Potter
Verne Lundquist
... Announcer
Jared Van Snellenberg
... Happy's Waterbury Caddy
Ken Camroux
... Coach
Rich Elwood
... Assistant Coach
Nancy McClure
... Terry
Helena Yea
... Chinese Lady
Will Sasso
... Mover
Dee Jay Jackson
... Mover
Ellie Harvie
... Registrar
Ian Boothby
... Guy on Green
Andrew Johnston
... Crowd Guy (Waterbury)
Kimberley Restell
... Crowd Girl (Waterbury)
Fred Perron
... Waterbury Heckler
Helen Honeywell
... Crazy Old Lady
Paul Raskin
... Starter #1 (Waterbury)
William Samples
... Starter #2 (AT&T)
John Shaw
... Daniel Lafferty
Ted Deeken
... Auctioneer
John Destry
... Zamboni Driver
Jim Crescenzo
... Shooter's AT&T Caddy
Brett Armstrong
... Shooter's Tournament Caddy
Peter Kelamis
... Potter's Caddy
Stephen Tibbetts
... Pro Golfer
Edward Lieberman
... Pro Golfer
Donald MacMillan
... Young Happy
Louis O'Donoghue
... Happy's Dad
Lisanne Collett
... Happy's Mom
Stephen Dimopoulos
... Italian Guy
Douglas Newell
... Starter #4 (Pro-Am)
Frank L. Frazier
... Blue Collar Fan
David Kaye
... Reporter
Zachary Webb
... Batting Kid
Simon Webb
... Doctor
Mark Lye
... Himself
Betty Linde
... Elderly Woman
Dave Cameron
... Reporter #2
Lou Kliman
... Reporter #3
Brent Chapman
... Official
Jessica Gunn
... Signed Chest Woman
Phillip Beer
... Cowboy Joe
Fat Jack
... Jack Beard
Michelle Holdsworth
... Babe on Green
Charles L. Brame
... Abe Lincoln
REVIEWS
Review by kurtzy8 (posted on 23-Feb-2005)
I feel that Happy Gilmore is one of the greatest movies of all time. Without Carl Weathers, though, the movie would only receive a half star from me. Carl Weathers is my personal hero. He is one of the few role models we have in the world today. It is ironic, though, that Carl Weathers is black. His blackness gives support to the theory that the black man always dies first. Although surviving injuries to the limbs in several of his films, he always manages to die.
---
Do you know something we don't?
Submit a correction or make a comment about this profile

Copyright ©2019 Soylent Communications