Elektra (13-Jan-2005)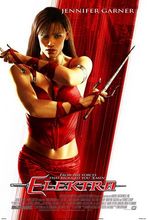 Director: Rob Bowman
Writers: Zak Penn; Stu Zicherman; Raven Metzner
Based on a book by: Frank Miller (comic book character)
Music by: Christophe Beck
Producers: Arnon Milchan; Gary Foster; Avi Arad
Keywords: Action/Adventure, Martial Arts, Comic Book, Archery




A skillful assassin resurrected from the dead looks to protect her latest targets from a cast of adversaries.
ABSTRACT
Femme fatale Elektra Natchios is brought back to life following her death in Daredevil by martial arts master Stick, expelled from his training compound due to emotional issues relating to her past. Favoring a life as an exceptional contract killer in the years following her resurrection, Elektra rebels against her shadowy employer to protect her latest targets, father Mark Miller and daughter Abby, from a supernatural crime syndicate known as The Hand.
CAST
Jennifer Garner
... Elektra
Goran Visnjic
... Mark
Kirsten Prout
... Abby
Will Yun Lee
... Kirigi
Cary-Hiroyuki Tagawa
... Roshi
and
Terence Stamp
... Stick
Natassia Malthe
... Typhoid
Bob Sapp
... Stone
Chris Ackerman
... Tattoo
Edson T. Ribeiro
... Kinkou
Colin Cunningham
... McCabe
Hiro Kanagawa
... Meizumi
Mark Houghton
... Bauer
Laura Ward
... Young Elektra
Kurt Max Runte
... Nikolas Natchios
Nathaniel Arcand
... Hand Ninja #1
Aaron Au
... Hand Ninja #2
Kevan Ohtsji
... Roshi Servant
Ian Tracey
... Pool Shark
Jana Mitsoula
... Young Elektra's Mother
Sean Akira
... Glowering Ikuren
Taku Kawai
... Glowering Ikuren
Kendall Cross
... First Paramedic
Ty Olsson
... Second Paramedic
Nancy Wetzel
... Third Paramedic
Paul Wu
... Fight Instructor
Mark Driesschen
... Weatherman
Puppeteers
Alec Billis
... Puppeteer
Yuri Everson
... Puppeteer
Tom Woodruff, Jr.
... Puppeteer
REVIEWS
Review by Panapa Williams (posted on 28-Feb-2005)
I thought Elektra was an amazing masterpiece, Big ups to the writer and director, Rob Bowman, Zak Penn, Stu Zicherman, and Frank Miller. And who could forget the beautiful and talented Jennifer Garner, you guys deserve the credit and the upmost recognition for an amazing storey of love, anger, violence (good verses evil), and what its like to be outragesly powerful in the physical form. Just like every body there are consequences and thats what made the story so realistic, and what made it more interesting is that every character had an alabi, Each and every character had their own uniqueness and special abilities, (forgotten the word but it starts with a 'C'), and the young girl with the bracellett that turned it into a golden whip! Amazing! The suprises you guys had instore really caught me off guard, that's why the bad guys were after the father and daughter, the daughter was a master herself, I could go on with endless amounts of pages about my view on the movie... but I'll leave some things for other people to write about.
---
Do you know something we don't?
Submit a correction or make a comment about this profile

Copyright ©2019 Soylent Communications