Faster (4-Nov-2010)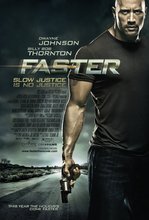 Director: George Tillman, Jr.
Writers: Tony Gayton; Joe Gayton
Music by: Clint Mansell
Producers: Martin Shafer; Liz Glotzer; Tony Gayton; Robert Teitel
Keywords: Action/Adventure, Revenge




An ex-convict sworn on avenging his brother's death contends with a pursuit at the hands of a cop and hitman.
ABSTRACT
An unnamed ex-convict, referred to in the film as "Driver", embarks on a campaign to avenge his brother's death over a failed heist upon his release from prison. Hellbent on revenge, the Driver must deal with a dual pursuit at the hands of a cop and contract killer hired by the man responsible for his incarceration years ago if he is to complete his mission without facing death or a return to jail.
CAST
The Rock
... Driver
Billy Bob Thornton
... Cop
Oliver Jackson-Cohen
... Killer
Carla Gugino
... Cicero
Maggie Grace
... Lily
Moon Bloodgood
... Marina
Adewale Akinnuoye-Agbaje
... The Evangelist
Tom Berenger
... Warden
Mike Epps
... Roy Grone
Xander Berkeley
... Sgt. Mallory
Lester Speight
... Baphomet
Matt Gerald
... Driver's Brother
Michael Irby
... Vaquero
Mauricio Lopez
... Prison Guard
James Gaines
... Inmate
Jan Hoag
... Receptionist
Courtney Gains
... Telemarketer
Josh Clark
... Uniform
Michael Blain-Rozgay
... TV Anchor
Sid S. Liufau
... Kenny
Aaron Behr
... Cohort #1
Jeffrey Daniel Phillips
... Cohort #2
John Cirigliano
... Old Guy
Jonna Walsh
... Teen Girl
Kiyomi Calloway
... Little Girl
Aedin Mincks
... Tommy
Michole Briana White
... TV Anchor #2
Clint Palmer
... Ranch House Husband
Jennifer Carpenter
... Woman
Stephanie Nash
... TV Reporter
Geraldine Keams
... Preacher's Wife
Buzz Belmondo
... Preacher
Ski Cutty Carr
... Bouncer
Steven Charles
... Cowboy
Julia Pace Mitchell
... Cashier
Jack Wallace
... Bathroom Attendant
Sara Arrington
... Nurse
Julius Tennon
... Doctor
Stacey E. Ashmont
... Nurse #2
Seth Burben
... Doctor #2
Annie Corley
... Mother
Jeffri Kent Norat
... Detective
Nadja Minyon
... Evangelist's Wife
Gospel Choir
Alexandra Brown
... Gospel Choir
Charlotte Crossley
... Gospel Choir
Monique Donnelly
... Gospel Choir
Carmel Echols
... Gospel Choir
Joel Echols
... Gospel Choir
Gloria Garayua
... Gospel Choir
James Gilstrap
... Gospel Choir
Mark Gutierrez
... Gospel Choir
Clydene Jackson
... Gospel Choir
Bobette Jamison-Harrison
... Gospel Choir
Chrystopher Johnson
... Gospel Choir
Ayana Layli
... Gospel Choir
Laura Lively
... Gospel Choir
Rick Logan
... Gospel Choir
Guy Maeda
... Gospel Choir
Kamilah Marshall
... Gospel Choir
Myrna Matthews
... Gospel Choir
Ali B. Olmo
... Gospel Choir
Marisa Rawlins-Bradfield
... Gospel Choir
Sally Stevens
... Gospel Choir
John West
... Gospel Choir
REVIEWS
Do you know something we don't?
Submit a correction or make a comment about this profile

Copyright ©2019 Soylent Communications