Before Night Falls (3-Sep-2000)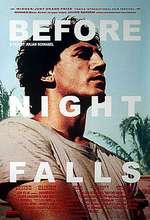 Director: Julian Schnabel
Writers: Lazaro Gomez Carriles; Cunningham O'Keefe; Julian Schnabel
Based on a book by: Reinaldo Arenas (memoir)
Keywords: Drama, Biography, Cuba




Biopic examines the life and career of Cuban writer Reinaldo Arenas.
ABSTRACT
Reinaldo Arenas was a famous Cuban writer of the mid-to-late 20th century, whose works such as Celestino antes del alba (Singing from the Well) and El mundo alucinante (Hallucinations) coupled with his latent homosexuality would make him a prime target of Fidel Castro's regime. Before Night Falls follows Arenas from roots in Cuba's then-Oriente Province to renown, political persecution, an escape from his native land in the Mariel boatlift of 1980, and eventual death by suicide in New York City.
REVIEWS
Review by anonymous (posted on 1-Jul-2006)
I have just finished watching Before Night Falls (in New Zealand). I found Javier Bardem's acting truly mesmerising. He held the film in the palm of his hand. Thank you for bringing to me the persecution of people that do not fit the mold in a political regime. You have portrayed the person, the era perfectly. I readily admit I did not know much about Fidel Castro's land and the way in which it was run, and this film has brought home to me that I am very lucky to have been brought up in England. Javier Bardem is a magnificant actor and held me enthralled.
---
Do you know something we don't?
Submit a correction or make a comment about this profile

Copyright ©2019 Soylent Communications