Hearts in Atlantis (7-Sep-2001)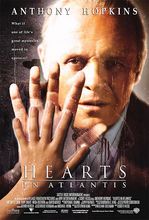 Director: Scott Hicks
Writer: William Goldman
From novella: Low Men in Yellow Coats by Stephen King
Music by: Mychael Danna
Producer: Kerry Heysen
Keywords: Drama




Film adaptation of the Stephen King novel of the same name follows a mysterious older man and his influence on a young boy.
ABSTRACT
Told within the frame of middle-aged Robert "Bobby" Garfield reminiscing about his past, Hearts in Atlantis is the story of Ted Brautigan, an older man who comes to eleven-year old Bobby's town to board with him and widowed mother Liz. Ted reveals to young Bobby that he came to town to escape the "Low Men", mysterious forces out to control his powers of clairvoyance and telekinesis; to that end, he uses his special abilities for the benefit of Bobby and friends, helping to shape the boy into a confident young man as he looks to remain safe from the Low Men.
| Name | Occupation | Birth | Death | Known for |
| --- | --- | --- | --- | --- |
| Mika Boorem | Actor | 18-Aug-1987 | | The Education of Little Tree |
| Tom Bower | Actor | 1938 | | Dr. Curtis Willard on The Waltons |
| Hope Davis | Actor | 23-Mar-1964 | | American Splendor |
| Anthony Hopkins | Actor | 31-Dec-1937 | | Hannibal Lecter |
| David Morse | Actor | 11-Oct-1953 | | Mike Olshansky on Hack |
| Will Rothhaar | Actor | 12-Jan-1987 | | Mickey Kleinman on Listen Up |
| Alan Tudyk | Actor | 16-Mar-1971 | | Hoban Washburne on Firefly |
| Anton Yelchin | Actor | 11-Mar-1989 | 19-Jun-2016 | Delivering Milo |
CAST
Anthony Hopkins
... Ted Brautigan
Anton Yelchin
... Bobby Garfield
Hope Davis
... Liz Garfield
Mika Boorem
... Carol Gerber
and
David Morse
... Bobby Garfield (adult)
Alan Tudyk
... Monte Man
Tom Bower
... Len Files
Celia Weston
... Alanna Files
Adam LeFevre
... Don Biderman
Will Rothhaar
... Sully-John
Timmy Reifsnyder
... Harry Doolin
Deirdre O'Connell
... Mrs. Gerber
Terry Beaver
... Mr. Oliver
Joe T. Blankenship
... Richie O'Rourke
Brett Fleisher
... Willie Shearman
Joel F. Haberli
... Sully's Dad
Evan Moses
... Sully's Little Brother
Joshua Billings
... Cabbie
Valerie Karasek
... Sully's Widow
Graham Bardsley
... Minister
Keith H. Beyer
... Soldier at Funeral
Sean Edwards
... Soldier at Funeral
Robert V. Maine
... Soldier at Funeral
Mickey Leon McBride
... Soldier at Funeral
Wes Johnson
... Sports Announcer
Low Men in Yellow Coats
Bourke Floyd
... Low Man
Lawrence Gaughan
... Low Man
Jim Hild
... Low Man
Steve Little
... Low Man
Bud Pezet
... Low Man
Jamie Watson
... Low Man
REVIEWS
Review by anonymous (posted on 10-Sep-2006)
Heartwarming, intriguing film depicting the relationship between a man hiding from the government because he is a gifted, blind psychic and a young boy who lives in a nearby apartment. The relationships between characters; the boy and his female friend, the mother and the boy, and Hopkins and the boy are well developed. David Morse, the boy grown up, goes back to his hometown and recalls the story of that important time in his life.
---
Do you know something we don't?
Submit a correction or make a comment about this profile

Copyright ©2019 Soylent Communications