Rope (28-Aug-1948)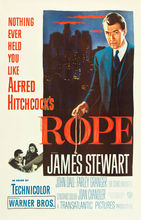 Director: Alfred Hitchcock
Writers: Hume Cronyn; Arthur Laurents
From a play: Rope's End by Patrick Hamilton
Keywords: True Crime, Roman à Clef, New York




Two chums, insinuated to be homosexual, strangle a friend as a lark, audaciously inviting the victim's friends to a dinner party whose centerpiece is a trunk containing the cadaver. Jimmy Stewart plays their former headmaster, Rupert Cadell; something at the party feels very wrong to him. The infamous Leopold & Loeb murder case, with the names changed. Hitchcock's first color film. The same case was made into Richard Fleischer's Compulsion (1959).
CAST
REVIEWS
Review by anonymous (posted on 5-Feb-2007)
Rope is a much under-rated and under-recognized Hitchcock thriller. It is done in six or seven seamless film segments so the effect is similar to a nonstop play. During this period of movie making, this approach simply wasn't done. Everything about it is interesting; from the camera work, to the acting, to the story, and of course to the direction. The film focuses on a financially elite, implied male "couple" (Granger, Dahl) living together in an implied New York City. Both being snooty and arrogant, they proceed to plan the murder of and then strangle (with a piece of rope) a college buddy in their apartment, and then proceed in giving a cocktail party to which the parents and girlfriend of the deceased young man are invited. As well, they invite an older, eccentric college professor (Stewart) of theirs, who had inspired their behavior. The professor had taught them that it would be a noble deed to commit a murder of someone who was relatively useless to society, and only the "superior" have the right to make such determinations and actions. They all nibble on the buffet, with a few interesting additional characters (Sir Cedric Hardwicke, Constance Collier, Joan Chandler), which is literally served on the very chest that contains the deceased. Stewart now becomes a sleuth, with an important revision of his philosophies to come. The rest of the story must be seen to be appreciated. It unfolds in about 80 minutes, and watch for the seamless film transitions, usually on the back of a dark jackets. A superb thriller! A great movie! Watch it!
---
Do you know something we don't?
Submit a correction or make a comment about this profile

Copyright ©2019 Soylent Communications