21 Grams (5-Sep-2003)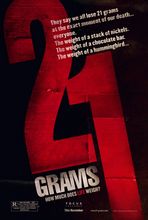 Director: Alejandro González Iñárritu
Writer: Guillermo Arriaga




Individuals hailing from differing sets of circumstances come together following an unfortunate accident.
ABSTRACT
"They say we all lose 21 grams at the exact moment of our death...everyone." So claims the official tagline for 21 Grams, a crime drama-cum-character piece centered around the finality of life and its unifying grip on humanity, no matter whom the person. Convict-turned-evangelical Christian Jack Jordan, terminally-ill mathematician Paul Rivers, and recovering drug addict Cristina Peck, each their own individual with their own story to tell, are brought together under grisly circumstances when Jack kills Cristina's family in a tragic hit-and-run accident, kicking off a series of tumultuous events guaranteed to leave no life unchanged and no stone unturned.
[watch trailer]
REVIEWS
Review by Diane Sean Evans (posted on 22-Nov-2010)
Great cast, good cinematography but very weak script. The plot is flawed. Some unrelated random events are disconnected from the story. A sex encounter of Shawn Penn and Naomi Watts is revealing and torrid but gets too lengthy and eventually boring. There's no natural flow in the change of emotions of Watts towards Penn. A waste of talented actors.
---
Do you know something we don't?
Submit a correction or make a comment about this profile

Copyright ©2019 Soylent Communications