A Walk to Remember (23-Jan-2002)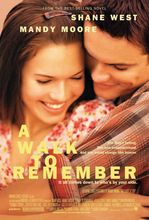 Director: Adam Shankman
Writer: Karen Janszen
From novel: A Walk to Remember by Nicholas Sparks
Keywords: Romantic Drama




Film adaptation of the Nicholas Sparks novel of the same name follows a love story concerning two teenagers brought together under unlikely circumstances.
ABSTRACT
Threatened with expulsion from his high school over a docile prank gone horribly wrong, North Carolina teenager Landon Carter agrees to take part in a variety of community service programs seeing him helping out with multiple after-school activities. Popular and intellectually challenged, young Landon is brought face to face with introverted bookworm Jamie Sullivan, forming a symbiotic friendship with the young woman that sees her coming out of her shell while he is shaped into a better man. Predictable plot turns and a Christian-tinged romantic twist towards the end mark this as a formulaic Nicholas Sparks tale brought to the silver screen.
REVIEWS
Review by Elena (posted on 6-Jun-2007)
I first saw A Walk to Remember, I think on some cable station, and have since gone out and bought the DVD. I now have probably watched it at least six times already. And each time I have seen it, the more I fall in love with both Landon and Jamie. I can't believe that when this movie first came out, critics panned it. To me, critics are a bunch of wanna be directors and actors anyway. They don't know a wonderful story, or beautiful acting when they see it. This movie makes me cry everytime I have watched it! And Mandy Moore and Shane West did such a great job in their performances that I actually felt like maybe there was something between them in real life. When will we see them again together in another movie? Soon I hope! As for Shane West and Many Moore, I have now become their devoted fan for life!
---
Do you know something we don't?
Submit a correction or make a comment about this profile

Copyright ©2019 Soylent Communications