Patton (4-Feb-1970)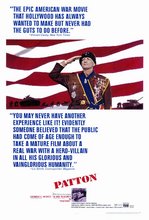 Director: Franklin J. Schaffner
Writers: Francis Ford Coppola; Edmund H. North
Based on a book: Patton: Ordeal and Triumph by Ladislas Farago
Music: Jerry Goldsmith
Producer: Frank McCarthy
Keywords: Drama, Biography, WWII, Nazis




Biopic of the most controversial general in American history, the hotheaded, arrogant, unpredictable yet unmistakably brilliant George S. Patton; his passion is for war and not ideology. Won seven Oscars including Best Picture, Best Director, Best Actor (turned down by George C. Scott), and Best Screenplay; received three additional nominations including Best Cinematography and Best Original Score.
[watch trailer]
CAST
George C. Scott
... Gen. George S. Patton, Jr.
Karl Malden
... Gen. Omar N. Bradley
co-starring
Michael Bates
... Field Marshal Sir Bernard Law Montgomery
Edward Binns
... Maj. Gen. Walter Bedell Smith
Lawrence Dobkin
... Col. Gaston Bell
John Doucette
... Maj. Gen. Lucian K. Truscott
James Edwards
... Sgt. William George Meeks
Frank Latimore
... Lt. Col. Henry Davenport
Richard Muench
... Col. Gen. Alfred Jodl
Morgan Paull
... Capt. Richard N. Jenson
Siegfried Rauch
... Capt. Oskar Steiger
Paul Stevens
... Lt. Col. Charles R. Codman
Michael Strong
... Brig. Gen. Hobart Carver
Karl Michael Vogler
... Field Marshal Erwin Rommel
Stephen Young
... Capt. Chester B. Hansen
with
Abraxas Aaran
... Willy
Peter Barkworth
... Col. John Welkin
John Barrie
... Air Vice-Marshal Sir Arthur Coningham
David Bauer
... Lt. Gen. Harry Buford
Tim Considine
... Soldier Who Gets Slapped
Albert Dumortier
... Moroccan Minister
Gerald Flood
... Air Chief Marshal Sir Arthur Tedder
Jack Gwillim
... Gen. Sir Harold Alexander
David Healy
... Clergyman
Bill Hickman
... Gen. Patton's Driver
Sandy Kevin
... Correspondent
Cary Loftin
... Gen. Bradley's Driver
Alan MacNaughtan
... British Briefing Officer
Lionel Murton
... Third Army Chaplain
Clint Ritchie
... Tank Captain
Douglas Wilmer
... Maj. Gen. Francis de Guingand
Patrick J. Zurica
... 1st Lt. Alexander Stiller
REVIEWS
Review by Dave Meloche (posted on 26-Mar-2005)
I remember old "blood & Guts" from WWII and he was always my "hero".
The movie traces his taking command of the Army in Africa, after the debacle of Kasserine Pass, where the German General Erwin Rommel convincingly beat the American Army in the first encounter between the Allied troops and the Wermacht.
The movie is a rather accurate portrayal of Patton by George C. Scott.
Scott did such a convincing portrayal of Patton, I cannot conceive another actor playing that role with any of George's credibility.
If you are a Patton fan, you owe it to yourself to watch this movie.
---
Do you know something we don't?
Submit a correction or make a comment about this profile

Copyright ©2019 Soylent Communications