Sergeant York (2-Jul-1941)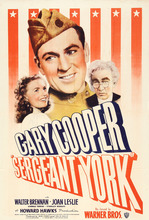 Director: Howard Hawks
Writers: Abem Finkel; Harry Chandlee; Howard Koch; John Huston
Based on a book: Sergeant York: His Own Life Story and War Diary by Alvin York with Tom Skeyhill
Music by: Max Steiner
Producers: Jesse L. Lasky; Hal B. Wallis
Keywords: Drama, WWI, Biography




Alvin York is a Tennessee hick who joins a pacifist church, then rises to become the most decorated soldier in World War I. Won Oscars for Best Actor and Best Editing; received 9 additional nominations including Best Picture, Best Director, Best Supporting Actor and Actress, Best Cinematography, Best Score and Best Screenplay. Entered 2008 into the National Film Registry.
| Name | Occupation | Birth | Death | Known for |
| --- | --- | --- | --- | --- |
| Noah Beery, Jr. | Actor | 10-Aug-1913 | 1-Nov-1994 | Rocky on The Rockford Files |
| Clem Bevans | Actor | 16-Oct-1879 | 11-Aug-1963 | Saboteur |
| Ward Bond | Actor | 9-Apr-1903 | 5-Nov-1960 | Wagon Train |
| Walter Brennan | Actor | 25-Jul-1894 | 21-Sep-1974 | Three Oscars for Best Supporting Actor |
| Gary Cooper | Actor | 7-May-1901 | 14-May-1961 | High Noon |
| Carl Esmond | Actor | 14-Jun-1902 | 4-Dec-2004 | Ministry of Fear |
| Joan Leslie | Actor | 26-Jan-1925 | 12-Oct-2015 | Yankee Doodle Dandy |
| June Lockhart | Actor | 25-Jun-1925 | | Mom on Lassie, Lost in Space |
| Dickie Moore | Actor | 12-Sep-1925 | 7-Sep-2015 | The Little Rascals |
| Stanley Ridges | Actor | 17-Jul-1890 | 22-Apr-1951 | Black Friday |
| Joe Sawyer | Actor | 29-Aug-1906 | 21-Apr-1982 | Character actor 1930s to 1950s |
| Howard Da Silva | Actor | 4-May-1909 | 16-Feb-1986 | Bartender in The Lost Weekend |
| George Tobias | Actor | 14-Jul-1901 | 27-Feb-1980 | Abner Kravitz on Bewitched |
| Charles Trowbridge | Actor | 10-Jan-1882 | 30-Oct-1967 | The Great Lie |
| Margaret Wycherly | Actor | 26-Oct-1881 | 6-Jun-1956 | Sergeant York |
CAST
REVIEWS
Review by anonymous (posted on 24-Mar-2006)
I own a VHS cassette of this movie and am scared to death it will wear out before I can find a DVD or another six cassettes to last the rest of my life and on to my childrens lives. This story, it's charectors and the scenary all combine to allow those watching to helplessly fall deep into this film as if it comes to life around you. It's inspiration is clearly spiritual and watching this film has inspired many who have watched it toward a stronger walk in faith including myself. I watch this movie once a month just to lose myself in simpler times and to recharge my faith in a Higher Power. When I watch this movie, I don't see actors and actresses, I see Alvin C. York and Gracie Williams and the Pastor. The movie made Sgt. York's heroic acts in the war a highlite of the film, yet they gave it a very limited amount of time in the overall story. Combining this with the humility expressed in the film regarding his role in the war, Sgt York's actual humility toward his heroism becomes clearly believable. This movie is my all time favorite and clearly one of the top five greatest movies ever made. Chris Behling Hartford, WI.
---
Review by anonymous (posted on 1-Aug-2006)
This is a classic film about the turbulent life of a young Tennessee man who has to make a major decision in his life regarding patriotism and religion. His decision has a major impact on his life. He chooses to fight for his country. He becomes America's most famous hero of World War I, and influences many young Americans at the beginning of World War II. Gary Cooper portrays Alvin York in an excellent manner. This film has it all...in my opinion, it rates with Casablanca and Citizen Kane. This is my all-time favorite movie.
---
Do you know something we don't?
Submit a correction or make a comment about this profile

Copyright ©2019 Soylent Communications