The Painted Veil (20-Dec-2006)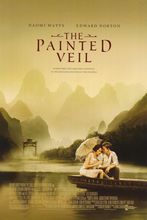 Director: John Curran
Writer: Ron Nyswaner
From novel by: W. Somerset Maugham
Music by: Alexandre Desplat
Producers: Sara Colleton; Jean-Francois Fonlupt; Bob Yari; Edward Norton; Naomi Watts
Keywords: Romantic Drama, China




A British doctor struggles with his faltering marriage while attempting to neutralize a cholera outbreak in a Chinese village.
ABSTRACT
Walter Fane is a middle-class doctor making his trade studying infectious diseases in 1920s-era Great Britain; Kitty is his lover and eventual wife, an upper-crust socialite who cheats on him with diplomat Charlie Townsend after the couple move to Shanghai. Enraged by his wife's infidelity, Walter takes a job in a remote village decimated by an ongoing cholera epidemic, endangering Kitty's life as he plunges headfirst into the riskiest endeavor of his career.
CAST
Naomi Watts
... Kitty Fane
Edward Norton
... Walter Fane
Liev Schreiber
... Charlie Townsend
Toby Jones
... Waddington
Diana Rigg
... Mother Superior
Catherine An
... Hostess
Li Bin
... Te-Ming
Wu Bin
... Student 1
Alan David
... Mr. Garstin
Marie-Laure Descoureaux
... Sister St. Joseph
Sally Hawkins
... Mary
Juliet Howland
... Dorothy Townsend
Lorraine Laurence
... Sister Maryse
Johnny Lee
... Angry Chinese Man
Feng Li
... Sung Ching
Gesang Meiduo
... Amah
Yin Qing
... Student 2
Ian Rennick
... Geoffrey Denison
Cheng Shihan
... Warlord Kwei
Liang Sijie
... Student 3
Maggie Steed
... Mrs. Garstin
Henry Sylow
... Walter Junior
Zoe Telford
... Leona
Lucy Voller
... Doris Garstin
Anthony Wong Chau-Sang
... Col. Yu
Lu Yan
... Wan Xi
Xia Yu
... Wu Lien
Ma Yun
... Student 4
Lin Zheng
... Chinese Opera Star
Singing Orphans
Yao Tian Hua
... Singing Orphan
Wu Di
... Singing Orphan
Lui Yue Qi
... Singing Orphan
Li Zhuo Er
... Singing Orphan
Hu Jia Yi
... Singing Orphan
Guo Yu Tong
... Singing Orphan
Zhao Wei Xin
... Singing Orphan
Chen Xi
... Singing Orphan
Shi Tong Xuan
... Sinfing Orphan
Tang Yu Xin
... Singing Orphan
Gao Qiao Jia Li
... Singing Orphan
Cheng Yu Yang
... Singing Orphan
Guo Jia Hui
... Singing Orphan
Huang Yi Yuan
... Singing Orphan
Xu Shu Hao
... Singing Orphan
Fei Yue
... Singing Orphan
Meng Ting Yu
... Singing Orphan
Cheng Zhu Yue
... Singing Orphan
Gao Qiao Ming Fang
... Singing Orphan
Tan Ya Zuo
... Singing Orphan
Businessmen in Colony Club
John Cann
... Businessman in Colony Club
Maurice Herschtal
... Businessman in Colony Club
Bill Marcus
... Businessman in Colony Club
Shobauro Hiratsuka
... Businessman in Colony Club
REVIEWS
Review by Anonymous (posted on 17-Aug-2007)
"The Painted Veil" is an extremely unique movie. I have never seen a love story like it before, and I was very happy with its deviance from traditional love stories. As a theatre major, one thing especially stood out to me while watching this movie: the fact that at several points in the movie I had absolutely no idea what was going to happen. I don't mean this to sound cocky at all, but the fact is that anybody who deals with stories finds themselves pretty easily "knowing" what's going to be the outcome of situations in movies, oftentimes, even the entire movie itself. But this was not the case for me with "The Painted Veil". The characters are so alive that it made the story alive, and therefore, unpredictable. I also greatly appreciated the way the director chose to make the love scenes: neither porno nor trying to show as much as possible while keeping the rating below R, the director made the love scenes some of the most sensual and creatively inspiring ones that I have ever seen. I definitely recommend anyone to watch this movie. And the great thing is, it is suitable for kids to watch, and more than satisfying for adults.
---
Review by Joyce Link (posted on 27-Sep-2008)
I saw this movie prior to reading the book. I knew it was a period piece and I was looking at the actors and how they portrayed the characters. I thought Edward Norton and Naomi Watts were excellent in their portrayal.They WERE Walter and Kitty Fane. The movie may have seemed slow to others but I needed the time to absorb the nuances of the film. Diana Rigg was a great surprise in her role as the Mother Superior. I was not aware it was her doing the acting for the part for several minutes. I have since read the book and watched the movie several times. The book and the movie have become part of my library of favorites. If I had to choose, the movie would be my preference.
---
Do you know something we don't?
Submit a correction or make a comment about this profile

Copyright ©2019 Soylent Communications