The Defiant Ones (14-Aug-1958)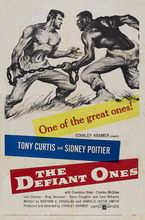 Director: Stanley Kramer
Writers: Nedrick Young; Harold Jacob Smith
Music by: Ernest Gold
Producer: Stanley Kramer




When their prison transport runs into a ditch, Tony Curtis and Sidney Poitier, a racist white man and black man shackled together, take the opportunity to escape. Initial animosity gives way to reluctant friendship, as they find they absolutely must depend on each other to survive. Won Oscars for Best Writing and Best Cinematography; received additional nominations for Best Picture, two for Best Actor, Best Supporting Actor and Actress, Best Director and Best Editing.
| Name | Occupation | Birth | Death | Known for |
| --- | --- | --- | --- | --- |
| Claude Akins | Actor | 25-May-1926 | 27-Jan-1994 | Misadventures of Sheriff Lobo |
| Theodore Bikel | Actor | 2-May-1924 | 21-Jul-2015 | The Defiant Ones |
| Whit Bissell | Actor | 25-Oct-1909 | 5-Mar-1996 | The Time Tunnel |
| Lon Chaney, Jr. | Actor | 10-Feb-1906 | 12-Jul-1973 | The Wolf Man |
| Tony Curtis | Actor | 3-Jun-1925 | 29-Sep-2010 | Some Like It Hot |
| King Donovan | Actor | 25-Jan-1918 | 30-Jun-1987 | Character actor husband of Imogene Coca |
| Charles McGraw | Actor | 10-May-1914 | 30-Jul-1980 | Armored Car Robbery |
| Sidney Poitier | Actor | 20-Feb-1927 | | In The Heat Of The Night |
| Carl Switzer | Actor | 7-Aug-1927 | 21-Jan-1959 | Alfalfa in Our Gang |
| Cara Williams | Actor | 29-Jun-1925 | | The Cara Williams Show |
CAST
REVIEWS
Review by Gary R. Lemco (posted on 20-Aug-2007)
Directed by Stanley Kramer, "The Defiant Ones" stands up well over the test of time as a solid character study of two men, one black, one white, chained together in their escape and forced to acknowldege their common humanity. Besides the strong acting from Tony Curtis and Sidney Poitier, a host of supporting players moves the study along, including a sympathetic Sam (Lon Chaney, Jr.) and a dogged twosome of police officers (Theodore Bikel and Chalrs McGraw). King Donovan plays the owner of the pursuit dogs. Claude Akins plays a ferocious lynch-mob leader at a broken-in company store whom Sam quells with a devastating right cross. Good location shots of the bayou and a daunting clay pit provide some of the obstacles the pair have to run. A boy with a .22 ends a fierce conflict, the whle Civil Rights movement condensed into a furious microcosm. Tiem and again, it is Poitier's character who previals morally, while Curtis must reassess his conscience. Shot in 1958, the film stands as a kind of updated "I am a Fugitive from a Chain Gang" with a racial twist. Good camera work, especially at the end, the famous run for the escaping freight-train. Poitier's heroic spirit, his bemused singing at the finale, binds us as well as Curtis to his intrepid soul.
---
Do you know something we don't?
Submit a correction or make a comment about this profile

Copyright ©2019 Soylent Communications