Fast Times at Ridgemont High (13-Aug-1982)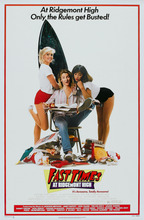 Director: Amy Heckerling
Writer: Cameron Crowe
From novel by: Cameron Crowe
Producers: Art Linson; Irving Azoff
Keywords: Comedy, Coming of Age, High School, Marijuana, Abortion, Teen Sex Romp, Los Angeles




Teenagers in California are at school and at the mall, navigating through adolescence. It has little plot but is a collection of moments. Jeff Spicoli orders pizza in class. Girl fellates a banana and receives applause. Phoebe Cates takes her top off (in a masturbation fantasy). Fast Times is the 1980s equivalent of American Graffiti (1973). Added to the National Film Registry in 2005.
[watch trailer]
CAST
Starring
Sean Penn
... Jeff Spicoli
Jennifer Jason Leigh
... Stacy Hamilton
Judge Reinhold
... Brad Hamilton
Phoebe Cates
... Linda Barrett
Brian Backer
... Mark "Rat" Ratner
Robert Romanus
... Mike Damone
and
Ray Walston
... Mr. Hand
Scott Thomson
... Arnold
Vincent Schiavelli
... Mr. Vargas
With
Amanda Wyss
... Lisa
D. W. Brown
... Ron Johnson
Forest Whitaker
... Charles Jefferson
Kelli Maroney
... Cindy
Tom Nolan
... Dennis Taylor
Blair Ashleigh
... Pat Bernardo
Eric Stoltz
... Stoner Bud
Stanley Davis, Jr.
... Jefferson's Brother
James Russo
... Robber
James Bershad
... Greg
Nicolas Cage
... Brad's Bud
Reginald H. Farmer
... Vice Principal
Anthony Edwards
... Stoner Bud
Pamela Springsteen
... Dina Phillips
Stuart Cornfeld
... Pirate King
Sonny Davis
... Businessman
Michael Wyle
... Brad's Bud
David E. Price
... Desmond
Patrick Brennan
... Curtis Spicoli
Julie Guilmette
... Perry's Pizza Waitress
Shelly O'Neill
... Perry's Pizza Waitress
Stu Nahan
... Himself
Duane Tucker
... Dr. Brandt
Martin Brest
... Dr. Miller
Douglas Brian Martin
... Angry Twin
Steven M. Martin
... Angry Twin
Taylor Negron
... Himself
Kenny Lawrence
... Ticket Customer
John Hollander
... Ticket Customer
Ricky Redlich
... Ticket Customer
Nancy Wilson
... Beautiful Girl in Car
David Resnik
... Reeves Nevo & The Cinch
Erick Leroy (Pee Wee) Burdette
... Reeves Nevo & The Cinch
David Doolittle
... Reeves Nevo & The Cinch
Tom B. Bralley
... Reeves Nevo & The Cinch
Reeves Nevo
... Reeves Nevo & The Cinch
Virginia Peters
... Restaurant Waitress
Laurie Hendricks
... Nurse
Lois Brandt
... Mrs. O'Rourke
Ellen Fenwick
... Stacey's Mom
Cherie Effron
... Girl #1
Suzanne Marie Fava
... Girl #2
Lana Clarkson
... Mrs. Vargas
Roy Holmer Wallack
... Santa Claus
Ava Lazar
... Playmate
Lorie Sutton
... Playmate
Sheldon
... Cruising Vessel
REVIEWS
Review by Larry Clark (posted on 24-Sep-2007)
I first watched this movie as a 15 year old, and it was hilarious. And now at the age of 40 , 25 years later, it's still brings out a laugh in me. Being a christian now, I can't watch the nude scenes anymore, but on basic cable it's a fun movie to watch. Wow, who would have ever thought all those people would go on to become bigtime stars.
---
Do you know something we don't?
Submit a correction or make a comment about this profile

Copyright ©2019 Soylent Communications