Alpha Dog (27-Jan-2006)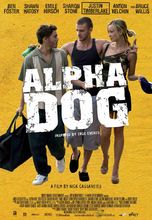 Director: Nick Cassavetes
Writer: Nick Cassavetes
Keywords: Crime, Roman à Clef




Biographical drama details the explosive life of drug dealer Jesse James Hollywood.
ABSTRACT
Inspired by true-life events surrounding notorious drug dealer Jesse James Hollywood, a Los Angeles-bred man whose criminal exploits made him one of the youngest-ever targets of the FBI's Most Wanted list, Alpha Dog is a biographical drama depicting powerful drug dealer Johnny Truelove's rise to prominence, kidnapping of the brother of a man who owes him money, and life as a fugitive as he struggles to decide what to do with the "stolen" young man.
REVIEWS
Review by Mark Flemming (posted on 1-Jun-2007)
WOW...what a surprise! This film was the best thing I have seen in several years. Nick K. is a great director/writer and the movie never stops moving. What is really great about this movie however is the suprisingly great acting. If someone told me to go see a movie with Justin Timberlake, the kid from the girl next door movie, Bruce Willis, Gretzky's wife, and the Clair's old boyfriend from Six Feet Under I would have told them they were crazy. All of the cast was perfect for the material. See it and you will not be dissappointed. Can't wait for "God is a Bullet"!
---
Do you know something we don't?
Submit a correction or make a comment about this profile

Copyright ©2019 Soylent Communications