Halloween (25-Oct-1978)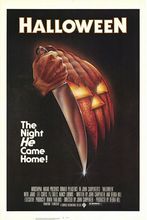 Director: John Carpenter
Writers: John Carpenter; Debra Hill
Keywords: Horror, Slasher, Halloween




At age 6, with a butcher knife Michael Myers killed his sister Judith; he has been institutionalized at Smith's Grove for 15 years, under supervision of Dr. Sam Loomis. Halloween 1978 he escapes, returns to Haddonfield Illinois, and begins slaughtering babysitters. He leaves Laurie, his younger sister, for last. Low budget masterpiece of horror; Entered 2006 into the National Film Registry.
REVIEWS
Review by anonymous (posted on 22-Apr-2006)
Halloween is a first rate slasher film. One of the best to come out of the seventies and my personal favorite of director John Carpenter. It thrills with scares and the shock value is excellent even to this day. Those fans of "Friday the 13th" clearly need to take a break from Crystal Lake and visit Haddonfield, Illinois. This could possibly be Carpenter's best work. The film is one of a kind and started a generation of slacher genre favorites. Every slasher movie that came out after had to be inspired by Halloween. Elements of the film can be found in the most horrible slasher and the rather good slasher film. Jamie Lee Curtis holds her own in this film, which made her a star. She is not overshadowed by her actress mother Janet Leigh, who starred in Hitchcock's "Psycho." Donald Pleasence is the driving force behind the film. Then, he was the only known actor starring in the movie,and he gives an excellent performance as the dedicated Michael Myer's hunter Dr. Sam Loomis. This clearly is his defining moment in the horror genre. If you have not already seen this film you must go out and buy it now. You have not seen a true horror film until you see, "The Night He Came Home!"
---
Review by LaReca Renae' Noland (posted on 21-Aug-2007)
I can still clearly remember seeing this movie as a kid with the doors and windows all wide open with all kinds of dangers lurking around outside thinking to myself, "This has got to be the most interesting movie I have ever seen, only because it talks about people like Michael Myers who truly exist in our community and what we should do about them." It has been far my most favorite movie to watch to date.
---
Do you know something we don't?
Submit a correction or make a comment about this profile

Copyright ©2019 Soylent Communications