The Hustler (25-Sep-1961)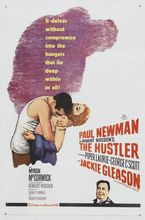 Director: Robert Rossen
Writers: Sidney Carroll; Robert Rossen
From novel: The Hustler by Walter S. Tevis
Music by: Kenyon Hopkins
Producer: Robert Rossen




A pool hustler with more talent than brains has the unlikely ambition of defeating the legendary Minnesota Fats. Willie Mosconi was technical adviser! Won Oscars for Best Cinematography and Best Set Decoration; received additional nominations for Best Picture, Best Actor and two Best Supporting Actor, Best Actress, Best Director, and Best Adaptation. Entered 1997 into the National Film Registry.
CAST
REVIEWS
Review by John Levin (posted on 5-Oct-2007)
Unrelentingly downbeat but outstanding nonetheless.Quality performances from all of the principles. Newman of course portrays the pool hustler who has loads of talent but no character. He's torn between the Piper Laurie character who has intelligence and character despite a drinking problem, and George C Scott who has money but no character. Jackie Gleason, a man who shot his share of pool, was ideally cast as Fats. Thered are many tense moments in this highly realistic film. It's worth seeing.
---
Do you know something we don't?
Submit a correction or make a comment about this profile

Copyright ©2019 Soylent Communications