12 Angry Men (13-Apr-1957)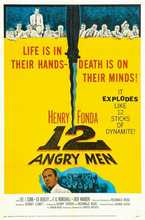 Director: Sidney Lumet
Writer: Reginald Rose
Music Composed and Conducted by: Kenyon Hopkins
Producers: Henry Fonda; Reginald Rose




A courtroom drama taking place entirely in the jury room. An 18-year-old boy is accused of stabbing his feather to death; if found guilty, he will be electrocuted. In a preliminary vote, eleven of the jurors vote to convict. Juror #8 raises the point that the prosecution's case is quite flimsy. Can he change everyone's mind? Received Oscar nominations for Best Picture, Best Director and Best Screenplay. Entered 2007 into the National Film Registry.
| Name | Occupation | Birth | Death | Known for |
| --- | --- | --- | --- | --- |
| Martin Balsam | Actor | 4-Nov-1919 | 13-Feb-1996 | A Thousand Clowns |
| Ed Begley, Sr. | Actor | 25-Mar-1901 | 28-Apr-1970 | Juror #10 in 12 Angry Men |
| Edward Binns | Actor | 12-Sep-1916 | 4-Dec-1990 | 12 Angry Men |
| Lee J. Cobb | Actor | 8-Dec-1911 | 11-Feb-1976 | The Left Hand of God |
| John Fiedler | Actor | 3-Feb-1925 | 25-Jun-2005 | Voice of Piglet |
| Henry Fonda | Actor | 16-May-1905 | 12-Aug-1982 | 12 Angry Men |
| Jack Klugman | Actor | 27-Apr-1922 | 24-Dec-2012 | The Odd Couple |
| E. G. Marshall | Actor | 18-Jun-1910 | 24-Aug-1998 | Juror #4, 12 Angry Men |
| George Voskovec | Actor | 19-Jun-1905 | 1-Jul-1981 | 12 Angry Men |
| Jack Warden | Actor | 18-Sep-1920 | 19-Jul-2006 | 12 Angry Men |
| Robert Webber | Actor | 14-Oct-1924 | 19-May-1989 | 12 Angry Men |
CAST
REVIEWS
Review by Danny (posted on 2-Mar-2005)
Nobody jumps onto (or off of) a speeding train, and nothing blows up. In fact, the entire movie (with the exception of the final "wrap-up" scene) takes place in one room: the jury room. The only way to pull off a successful film with no scenery changes or obvious action is to have strong character actors and an excellent script. 12 Angry Men has both. This film is replete with drama, emotion, intensity, conflict, and numerous character studies. My only fear is that this movie will be lost on the impatient, desensitized youth of today. My brother and I watched this film recently, and my two teen-aged nephews didn't make it ten minutes into the flick before adjourning to another room to play Spiderman II on their Gameboy. I think this film is a must for anyone interested in writing for film.
---
Review by anonymous (posted on 23-Dec-2006)
This is one of those films I think of as a litmus test. You can see exactly where you stand, and what the state of our culture is, from it. Who in the world (or in Hollywood, anyway) would even think of making a film that--save for one scene--takes place entirely in one room and whose action consists of an otherwise unassuming man swaying the others to his opinion? Who would make a film advocating the opinion to which one man tries to persuade the others: That a man on death row shouldn't be executed? Today's films rarely have such conscious and conscientious writing, nor such forceful yet nuanced performances, as what we find in "Twelve Angry Men." Rarer still is the film that takes a truly daring stance on a controversial topic. To be against the death penalty in the 1950's was about helpful to one's standing in the community as defending Lenin and Stalin. To take such a stance while respectfully acknowledging the merits of an opposing argument was nothing short of heroic. And to make a beautiful film from it was, well, art. Could this film have been made in a country that accepts an invasion of Iraq as part of the cost of doing business as usual? Would a studio head even consider a script for an all-male cast that contained no violence or smirky asides toward sex? You know the answer. These days, films with a "liberal" bias (as the reactionary media like to call it) make no more than gestures of indicating that there are indeed men who love men, women who love women, blacks who love whites and people who value a human life simply because it exists. These films do not truly embrace what they make gestures of tolerating because they do not understand that the flaws and tragedies of human beings, when revealed, are what helps to make their characters and their issues matter. That is why ignorant critics praise such pap as "TransAmerica," "Brokeback Mountain," "The Shawshank Redemption," "The Hours" and "My Big Fat Greek Wedding." Those critics wouldn't know a real work of art if it walked up to them wearing a Tshirt that said, "I am a real work of art." Audiences don't take the critics seriously, but as a reaction go to the gorefests and don't stop to see the honest probing of films like "Twelve Angry Men."
---
Do you know something we don't?
Submit a correction or make a comment about this profile

Copyright ©2019 Soylent Communications