Monster (16-Nov-2003)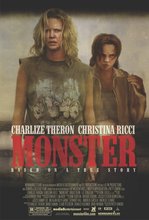 Director: Patty Jenkins
Writer: Patty Jenkins
Keywords: True Crime, Prostitution, Biography, Lesbian, Death Row, Rape




Biopic traces the infamous life of prostitute-turned-serial killer Aileen Wuornos.
ABSTRACT
Aileen Wuornos, a Daytona Beach, Florida-based prostitute, killed seven men from 1989 to 1990 on her way to achieving infamy as one of the United States' first well-known female serial killers. Monster provides her tortured life story with a feature-length screen treatment, following Wuornos from an abusive upbringing through to time spent as a highway prostitute, her murder of a number of truck drivers, and eventual capture and execution.
REVIEWS
Review by anonymous (posted on 2-Aug-2005)
I might just be too picky... but it's not even as if the movie was well acted. It was at best average. It had nothing to make it special. I finished the movie no better off nor any worse off than when it began. What a waste of 2 hours. If anyone would like it on VHS send me money for s/h and I'll give it to you. At least Charlize made some cash off of it for gettin chubby. You know, there are chubby actors out there. I could see risking your health for a role of a lifetime or something... but seriously... another movie about a prostitute that just wanted a good life? Not a career defining role if you ask me...
---
Do you know something we don't?
Submit a correction or make a comment about this profile

Copyright ©2019 Soylent Communications