Eraserhead (17-Mar-1977)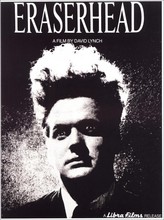 Director: David Lynch
Writer: David Lynch
Music: David Lynch
Producer: David Lynch
Keywords: Experimental, Surreal




Henry Spencer lives in some manner of industrial nightmare; his girlfriend Mary X gives birth prematurely to a mutant child, which Henry must care for. Dark, surreal, and atmospheric, Eraserhead is perhaps more a work of art than traditional cinema; his "script" of 21 pages has been stretched to 1 hour, 48 minutes. If one is able to watch it at all, multiple viewings might be advisable. Definitive cult film; there can be nothing cultier. Entered 2004 into the National Film Registry.
| Name | Occupation | Birth | Death | Known for |
| --- | --- | --- | --- | --- |
| Jack Nance | Actor | 21-Dec-1943 | 30-Dec-1996 | Eraserhead |
| Charlotte Stewart | Actor | 27-Feb-1941 | | Eva Beadle on Little House on the Prairie |
REVIEWS
Review by anonymous (posted on 15-Jan-2007)
David Lynch's Eraserhead is a visceral nightmare on celluloid. Shot in stark black and white on a very small budget, the film has become a certified cult classic that blurs the boundaries between psychological drama and common soap opera, existing somewhere between the edge of consciouness to the border of a waking nightmare. It's a totally bizzare film unlike anything that was being made at the time, and, at least to this reviewer truly "ahead" of its time in terms of a "genre" film. And even today critics debate the issue of what genre to classify this extraordinary piece of "art".. The protagonist, a nerdy Jack Nance (in his first film role), makes a baby with his wierd girl friend. But things get even wierder when the baby is born. It turns out to be a monstrous abberation--a cross between a giant maggot and ET--it's pitiful and errie crying only abated when Nance picks it up from its cradle. Eventually the girlfriend leaves both him and the baby after she can take no more of its crying and constant need for attention, plus the fact that she harbors real hatred for this "thing" which is her child. This of course leaves Nance to take care of the baby himself. On top of that the child has a skin disease that slowly generates large, foul lesions on its face and body, making it look more horrible with each passing day. The film uses a good deal of visual symbols, and Lynch uses the darkest reccesses of our subconsious as the canvas onto which this world is created, almost to the point of nausea. But Lynch's visual style is so captivating, that the dark, claustrophobic air of the movie is like watching the aftermath of a car accident. You don't want to watch, but feel drawn to anyway. There are bleeding chickens on a platter, a mysterious, seductive neighbor, strange sounds from house radiators, and long pauses in dialog which makes the film quite heavy on atmosphere rather than being dialogue driven--a hallmark that would be repeated in most of Lynch's later films. Eraserhead dwelves into the realm of the philosophical and existential as characters don't really seem to connect to one another--each acting as merely a conduit for the main character (Nance) to investigate his own psychological demons. Forget the blood and guts slasher movies being churned out today. Lynch's Eraserhead stands the test of time as one of the most disturbing psychological horror films ever made--a visually stunning debut by one of the most iconoclastic film makers working today.
---
Do you know something we don't?
Submit a correction or make a comment about this profile

Copyright ©2019 Soylent Communications