The Trouble with Angels (30-Mar-1966)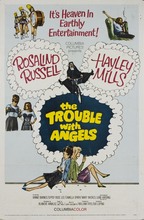 Director: Ida Lupino
Writer: Blanche Hanalis
From novel: Life with Mother Superior by Jane Trahey
Music: Jerry Goldsmith
Producer: William Frye
Keywords: Comedy




Two teenage girls become friends at the very catholic St. Francis Academy For Girls, and spend four years scheming, pranking, and otherwise making life difficult for the Mother Superior. Gypsy Rose Lee teaches interpretive dance. Delightful comedy with a tinge of bittersweet; followed by the less successful Where Angels Go, Trouble Follows (1968).
| Name | Occupation | Birth | Death | Known for |
| --- | --- | --- | --- | --- |
| Binnie Barnes | Actor | 25-May-1903 | 27-Jul-1998 | The Private Life of Henry VIII |
| June Harding | Actor | 7-Sep-1940 | | The Trouble with Angels |
| Gypsy Rose Lee | Dancer | 9-Feb-1911 | 26-Apr-1970 | Terpsichorean ecdysiast |
| Hayley Mills | Actor | 18-Apr-1946 | | The Parent Trap |
| Marge Redmond | Actor | 14-Dec-1930 | | Sister Jacqueline on The Flying Nun |
| Rosalind Russell | Actor | 4-Jun-1907 | 28-Nov-1976 | Auntie Mame |
| Kent Smith | Actor | 19-Mar-1907 | 23-Apr-1985 | Cat People |
| Mary Wickes | Actor | 13-Jun-1910 | 22-Oct-1995 | Sister Act |
CAST
Rosalind Russell
... Mother Superior
Hayley Mills
... Mary Clancy
Co-Starring
Binnie Barnes
... Sister Celestine
Gypsy Rose Lee
... Mrs. Phipps
Camilla Sparv
... Sister Constance
And Introducing
June Harding
... Rachel Devery
The Nuns
Mary Wickes
... Sister Clarissa
Marge Redmond
... Sister Liguori
Dolores Sutton
... Sister Rose Marie
Margalo Gillmore
... Sister Barbara
Portia Nelson
... Sister Elizabeth
Marjorie Eaton
... Sister Ursula
Barbara Bell Wright
... Sister Margaret
Judith Lowry
... Sister Prudence
The Girls
Barbara Hunter
... Marvel-Ann
Bernadette Withers
... Valerie
Vicky Albright
... Charlotte
Patty Gerrity
... Sheila
Vicki Draves
... Kate
Wendy Winkelman
... Sandy
Jewel Jaffe
... Ginnie-Lou
Gail Liddle
... Priscilla
Michael-Marie
... Ruth
Betty Jane Royale
... Gladys
Ronne Troup
... Helen
Catherine Wyles
... Brigette
The Outsiders
Jim Boles
... Mr. Gottschalk
Kent Smith
... Uncle George
Pat McCaffrie
... Mr. Devery
Harry Harvey, Sr.
... Mr. Grisson
Mary Young
... Mrs. Eldridge
REVIEWS
Review by Anthony Ciconte (posted on 7-May-2007)
This movie is a delightful spoof on life in a all-girls Catholic high school of the 1960's. Hayley Mills is delightful as the girl that drives the Mother Superior crazy at the school. It takes you through four delightful years where the good sisters are challenged to say the least to deal with the students who are experienceing a new phase of their lives. Rosalind Russell is a scream as the Mother Superior she has practical and firm, but fair attiutude as the principal. Marge Redmond you remember her from the cool whip commericals as Sr. Ligourie who uses the daily racing form to teach math. She keeps "Mother" from expelling the two main atagonist of the film. Mary Wickes is her drool self as the gym teacher of the school. You will enjoy her jumping into the pool in full-habit to save Hayley and June who can't swim as the try to pass swiming for graduation. There are some touching scenes also the Christmas scene in paricular comes to mind, Mother Superior is shown comforting and older women whose children have failed to visit and Miss Mills is a witness to this. I believe this begins the search that Hayley has through the movie. Gypsy Rose Lee is a parody of herself as the outsider who is brought in to teach "style" to the girls, relax she doesn't play a nun! Jim Hutton is also in the film as the neighboring shcool's band leader. He doesn't have much of a role just a good looking guy for the girls to ogle at. As I said in the begining of this review it a four year trip for the girls and it concludes with Hayley Mill's character joining the convent. If you like a film that doesn't have sex and you just want something to watch with your family I recomend this film.
---
Do you know something we don't?
Submit a correction or make a comment about this profile

Copyright ©2019 Soylent Communications