Black Snake Moan (9-Dec-2006)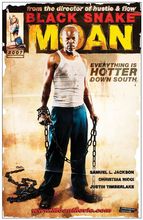 Director: Craig Brewer
Writer: Craig Brewer
Music by: Scott Bomar
Producers: John Singleton; Stephanie Allain
Keywords: Romantic Drama




An evangelical ex-blues musician looks to imprint his own brand of morality on the town madam.
ABSTRACT
Lazarus Woods, aging former blues musician and present-day farmer in rural Mississippi, struggles with his impoverished existence and recent loss of his wife's companionship. On an otherwise unremarkable day, Lazarus discovers sex-addicted town madam Rae severely beaten and left for dead on the side of the road; sensing a lost soul in need of guidance, the God-fearing man nurses her back to health while giving her a comprehensive education in the ways of the Lord. Lazarus' mission to redeem himself and save Rae's soul runs into trouble when her domineering soldier boyfriend returns home from Iraq, tortured by war and intent on killing him.
CAST
Samuel L. Jackson
... Lazarus
Christina Ricci
... Rae
Justin Timberlake
... Ronnie
S. Epatha Merkerson
... Angela
John Cothran
... Rev. R. L.
David Banner
... Tehronne
Michael Raymond-James
... Gill
Adriane Lenox
... Rose Woods
Kim Richards
... Sandy
Neimus K. Williams
... Lincoln
and
Son House
... Himself
Leonard L. Thomas
... Deke Woods
Ruby Wilson
... Mayella
Claude Phillips
... Bojo
Amy Lavere
... Jesse
Clare Grant
... Kell
Jeff Pope
... Batson
Skip Pitts
... Charlie
Willie Hall
... Pinetop
John Malloy
... Gene
T. C. Sharpe
... Archie
John Still
... Herman
Jared Hopkins
... Auto Worker
Tosh Newman
... Conner
Cody Block
... Bryan
Benjamin Rednour
... Guardsman
Carnell Pepper
... Melvin
David Chapman
... Red
Jolynne Palmer
... Ella Mae
Raymond Neal
... Hershel
John Pickle
... Arty
Kim Justis
... Waitress
Cedric Burnside
... Himself
Kenny Brown
... Himself
REVIEWS
Review by Blenus Martin (posted on 10-Jul-2007)
The movie was not what I expected it to be... From start to finish it really kept my attention as far as the characters go... Samuel L Jackson did a superb job of playing a character that had the morals and value system in a community that wouldn't allow it to be acknowledged... I had not seen many of Justin Timberlake's work, but I thought he did a fine job of playing a young man out of place and trying to find his way... Christine Ricci really surprised me in her role. Although I accepted her as that cute little goth girl in "The Addam's Family" flicks, I appreciate her maturity and bravery in playing such a role... I give this movie a full 4 stars... It was a very well written and well acted movie from start to finish...
---
Do you know something we don't?
Submit a correction or make a comment about this profile

Copyright ©2019 Soylent Communications