Crash (10-Sep-2004)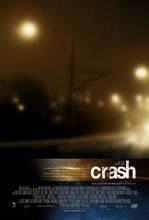 Director: Paul Haggis
Writers: Paul Haggis; Bobby Moresco
Keywords: Crime, Explosions




Los Angelenos hailing from a wide variety of backgrounds come together to weave a racially-tinged web of stories.
ABSTRACT
Inspired by a real-life 1991 carjacking incident involving director Paul Haggis' Porsche, Crash follows a cast of adults from differing walks of life and circumstances over a thirty-six hour expanse of time in Los Angeles, showing how the lives of individuals ranging from a race-baiting Caucasian district attorney to two African-American carjackers come together to craft a thought-provoking and socially-relevant tale offering commentary on race relations in our society.
[watch trailer]
REVIEWS
Review by anonymous (posted on 28-Jul-2006)
CRASH is West Coast, specifically LA, as skewed a view of the world as that shown in Chinatown. That said, it is also very good (to be fair, East Coast -- New York, Boston, Philadelphia -- world views are even more skewed and formulaic). Haggis plays against the usual formulas and cliches to great effect ... at least until you catch the rhythm of the movie and begin to anticipate outcomes. Even so, there are several deservedly praised moments that will choke up most viewers. Matt Dillon, Thandie Newton, Don Cheadle, Sandra Bullock and more turn in exceptional work. CRASH succeeds and is viewed best as an ensemble piece. No truly deep thoughts here, but clearer and more honest thoughts on race and class than has been seen in a mainstream movie in at least a decade.
---
Do you know something we don't?
Submit a correction or make a comment about this profile

Copyright ©2019 Soylent Communications