Robin Hood: Prince of Thieves (14-Jun-1991)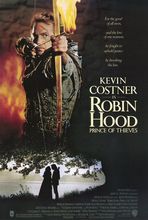 Director: Kevin Reynolds
Writers: Pen Densham; John Watson
Music Composed and Conducted by: Michael Kamen
Producers: John Watson; Pen Densham; Richard B. Lewis
Keywords: Action/Adventure, Robin Hood, Archery, Explosions




Robin of Locksley escapes a Jerusalem dungeon, returning to England with a fellow prisoner, the moor Azeem; before the death of his friend Peter he took an oath to protect Peter's sister, the fair maid Marian. They find the land in disarray, Robin's father dead, King Richard absent, and the rule of law usurped by the tyrannic Sheriff of Nottingham. Received an Oscar nomination for Best Original Song, "(Everything I Do) I Do It for You."
[watch trailer]
CAST
Kevin Costner
... Robin of Locksley
Morgan Freeman
... Azeem
Christian Slater
... Will Scarlett
Alan Rickman
... Sheriff of Nottingham
and
Mary Elizabeth Mastrantonio
... Marian
Nick Brimble
... Little John
Micheal McShane
... Friar Tuck
Daniel Peacock
... Bull
Harold Innocent
... Bishop
Walter Sparrow
... Duncan
Michael Wincott
... Guy of Gisborne
Geraldine McEwan
... Mortianna
Brian Blessed
... Lord Locksley
Soo Drouet
... Fanny
Daniel Newman
... Wulf
Jack Wild
... Much
Michael Goldie
... Kenneth
Liam Halligan
... Peter Dubois
Marc Zuber
... Interrogator
Merelina Kendall
... Old Woman
Imogen Bain
... Sarah
Jimmy Gardner
... Farmer
Bobby Parr
... Villager
John Francis
... Courier
John Hallam
... Red Headed Baron
Douglas Blackwell
... Gray Bearded Baron
Pat Roach
... Celtic Chieftain
Andy Hockley
... Ox
John Dallimore
... Broth
Derek Deadman
... Kneelock
Howard Lew Lewis
... Hal
John Tordoff
... Scribe
Andrew Lawden
... Sergeant
Susannah Corbett
... Lady in Coach
Sarah Alexandra
... Small Girl
Christopher Adamson
... Soldier
Richard Strange
... Executioner
REVIEWS
Review by banion48 (posted on 6-Apr-2005)
This film came out long before the flood of Robin Hood flicks that emerged in the nineties. Kevin Costner plays the rogue hero, alongside Morgan Freeman as his Moorish friend, and Christian Slater, a Judas in their midst. Costner portrays Robin of Locksley with dignity and just the right touch of boyishness to make it believable. The violence of the medieval lifestyle is emphasized enough for it to be credible as well, showing how meanly these people lived and what sort of day-to-day existence had to be meted out. Like all of Costner's time pieces he sets the stage marvellously and the viewer is not left wanting.
---
Do you know something we don't?
Submit a correction or make a comment about this profile

Copyright ©2019 Soylent Communications