The Night of the Iguana (6-Aug-1964)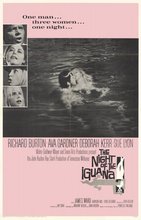 Director: John Huston
Writers: Anthony Veiller; John Huston
From a play by: Tennessee Williams
Music Composed and Conducted by: Benjamin Frankel
Producer: Ray Stark
Keywords: Drama




A clergyman defrocked after an affair with an underage girl takes employment as a tour guide in Puerto Vallarta for a bus full of vacationing American Baptist spinsters, only to encounter additional temptation. Won an Oscar for Best Costume Design; received additional nominations for Best Supporting Actress, Best Cinematography, and Best Set Decoration.
[watch trailer]
| Name | Occupation | Birth | Death | Known for |
| --- | --- | --- | --- | --- |
| Richard Burton | Actor | 10-Nov-1925 | 5-Aug-1984 | Nineteen Eighty Four |
| Ava Gardner | Actor | 24-Dec-1922 | 25-Jan-1990 | The Barefoot Contessa |
| Grayson Hall | Actor | 18-Sep-1922 | 7-Aug-1985 | The Night of the Iguana |
| Deborah Kerr | Actor | 30-Sep-1921 | 16-Oct-2007 | From Here to Eternity |
| Sue Lyon | Actor | 10-Jul-1946 | | Lolita |
CAST
REVIEWS
Review by mumford (posted on 24-Mar-2008)
Considering the A line cast and director, this should have been a minor classic. Instead a lot of talent is wasted. I blame Huston who was obviously past his prime when he did this. (He also is responsible for Reflections in a Golden Eye and there is no need to discuss that travisty). In Iguana's case he manages to make Richard Burton boring, he wastes the wonderful Deborah Kerr who flounces in and out of the movie in somewhat of a daze. The only one who delivers is Ava Gardner. Ms Gardner has been quoted as saying Huston was her favorite director. In any case she is wonderful. Judge for yourself, but it's not really worth the time.
---
Do you know something we don't?
Submit a correction or make a comment about this profile

Copyright ©2019 Soylent Communications