Full Body Massage (5-Nov-1995)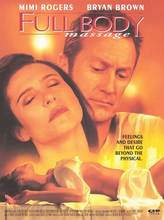 Director: Nicolas Roeg
Writer: Dan Gurskis
Music: Harry Gregson-Williams
Producer: Michael Nolin
Keywords: Drama




A replacement masseuse gives massages to Mimi Rogers, who spends much of the film naked. They hold long conversations about art, relationships, life, spirituality, or something. Essential viewing for anyone obsessed with Mimi Rogers and/or her upper anatomy; others, not so much.
| Name | Occupation | Birth | Death | Known for |
| --- | --- | --- | --- | --- |
| Bryan Brown | Actor | 23-Jun-1947 | | Cocktail |
| Mimi Rogers | Actor | 27-Jan-1956 | | Someone To Watch Over Me |
REVIEWS
Review by anonymous (posted on 14-Nov-2006)
This is a most unusual film. It is basically a two person movie. It is rare that a movie depicts a slice of reality the way this one does. Yes Mimi is very nude in this film, and for extended periods of time. This is most unusual in itself. There is a sensuality about this film that is most uncommon, and both actors and the director seem to be working in total harmony and aggreement. Please see this movie and form your own opinion. Be prepared to experience a very erotic ride. ventg99
---
Review by anonymous (posted on 25-Aug-2005)
The movie is plodding and dull EXCEPT for the opportunity to view Mimi Rogers in the flesh. She is one of the most generously, naturally gifted actresses and demonstrates this in the movie. Other than that, it is exceedly dull with inane dialogue. There are a total of two people in the movie.
---
Do you know something we don't?
Submit a correction or make a comment about this profile

Copyright ©2019 Soylent Communications