Starman (14-Dec-1984)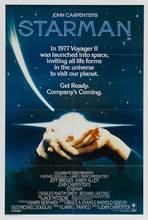 Director: John Carpenter
Writers: Bruce A. Evans; Raynold Gideon
Music Composed by: Jack Nitzsche
Producer: Larry J. Franco
Keywords: Sci-Fi, Explosions




An extraterrestrial visiting Earth finds his spacecraft shot down over Wisconsin; there he assumes human form as an inquisitive cloned replica of a young widow's deceased husband. He has three days to reach Arizona or he will perish, complicated in that he is under pursuit by military and scientific authorities. Quirky romantic science fiction story, for which Jeff Bridges received an Oscar nomination for Best Actor.
[watch trailer]
CAST
Jeff Bridges
... Starman
Karen Allen
... Jenny Hayden
Charles Martin Smith
... Mark Shermin
Richard Jaeckel
... George Fox
Robert Phalen
... Maj. Bell
Tony Edwards
... Sgt. Lemon
John Walter Davis
... Brad Heinmuller
Ted White
... Deer Hunter
Dirk Blocker
... Cop #1
M. C. Gainey
... Cop #2
Sean Faro
... Hot Rodder
Buck Flower
... Cook
Russ Benning
... Scientist
Ralph Cosham
... Marine Lieutenant
David Wells
... Fox's Assistant
Anthony Grumbach
... NSA Officer
Jim Deeth
... S-61 Pilot
Alex Daniels
... Gas Station Attendant
Carol Rosenthal
... Gas Customer
Mickey Jones
... Trucker
Lu Leonard
... Roadhouse Waitress
Charlie Hughes
... Bus Driver
Byron Walls
... Police Sergeant
Betty Bunch
... Truck Stop Waitress
Victor McLemore
... Roadblock Lt.
Steven Brennan
... Roadblock Sergeant
Pat Lee
... Bracero Wife
Judith Kim
... Girl Barker
Ronald Colby
... Cafe Waiter
Robert Stein
... State Trooper
Kenny Call
... Donnie Bob
Jeff Ramsey
... Hunter #1
Jerry Gatlin
... Hunter #2
David Daniell
... Letterman
Randy Tutton
... 2nd Letterman
REVIEWS
Review by Walter Frith (posted on 7-Jun-2007)
Jeff Bridges is one of the most under rated actors of the last two generations. He's a veteran of four Oscar nominations between 1971 and 2000. Three times for best supporting actor for 'The Last Picture Show', 'Thunderbolt and Lightfoot' and 'The Contender'. And once for best actor for his performance in John Carpenter's 'Starman'. In fact, bringing together two people like Jeff Bridges and John Carpenter is sort of a double dose of the under rated. Carpenter made the most successful independent low budget film of his generation with 1978's 'Halloween'. Made for $325,000 it grossed $47,000,000 in the U.S. and its total was actually much more with all of the world wide grosses and various forms of home entertainment over the years. Jeff Bridges himself never really had a huge box office hit that one would define as a "blockbuster" and 'Starman' was a 180 turn for both of them. Carpenter's other films such as 'The Fog', 'Escape from New York', 'The Thing' and his debut (and still his best film) 'Assault on Precinct 13', were hard edged thrillers with a decidedly dark style of presentation. A perfect slow burn form of story telling for adult audiences. Watch Carpenter's films carefully and you will always find a strong female lead. Or a greatly influential supporting female adding greatly to a story's essence. Something James Cameron would be influenced by later on and would get all of the credit for showing it in his films while Carpenter seems to be somewhat forgotten. Now 'Starman' would prove to be a touching and mildly humourous and totally human story about a being from another world who is not human but becomes one somewhat during his experience on Earth. In 1977 the Voyager II probe was launched into outer space and was filled with pictures, sounds, music and messages from Earth that invited all intelligent forms of life to visit our world. An alien being came into contact with the probe and came to our world in search of what he saw during this multi-media presentation. One dark and mysterious night in Wisconsin, a young widow named Jenny Hayden (Karen Allen), is sitting around watching home movies of herself and her deceased husband Scott (Jeff Bridges). She feels a great sense of loss and is in a serious state of depression. The alien infiltrates her home after she has gone to bed and through a single strand of the deceased man's hair hidden at the back of a scrapbook by his widow, the alien assumes human form and it's all uphill from here. A journey must now take place from Wisconsin to Arizona so that the alien can meet up with his kind who will beam him back up and take him back to his home planet. Jenny Hayden is, at first, resistant, and feels she's trapped in the ultimate nightmare but after awhile, as it happens in real life, the more you resist someone at first, they grow on you and you come to accept them. Tracking their progress is a scientist named Mark Shermin (Charles Martin Smith) who is under orders from his superiors to capture the alien so it can be experimented on but Shermin appeals to his own more humane instincts as he recognizes an incredible opportunity for co-operation and learning in the presence of a being that hypothetically is about 100,000 years ahead of the human race in its progress. 'Starman' is a by-product of the ripple effect created by 1982's 'E.T. the Extra-Terrestrial'. A film that was the highest grossing movie of all time but now has been surpassed. But ticket prices have almost tripled today so when adjusted for inflation, 'E.T.' still holds many box office records to this day. And, of course, 'E.T.' was a by product of 'Star Wars' and its whole cultural impact on the world. The biggest pop culture movie of all time which spawned two sequels, three prequels and essentially created a whole new religion in the process. A recent survey in England asking people what their religion is had a significant percentage of respondents answering "Jedi knight". 'Starman' is a hypnotic film of unbridled sentimentality. Its creative juices flow like old friend every time I view it, now 21 years after it theatrical release. It's part friendship story, part romance story, part action/adventure thriller and all evenly paced entertainment written by Bruce A. Evans and Raynold Gideon who would get an Oscar nomination two years later in 1986 for the adapted screenplay of 'Stand by Me' which was another deeply human story. This writing team would also pen a sleeper classic from 1987 called 'Made in Heaven' with Timothy Hutton and Kelly McGillis. To director John Carpenter's credit, he would have a little bigger budget this time around. John Carpenter's most ambitious film is probably 1982's 'The Thing'. A film that had a relatively high budget and low budgets plagued Carpenter for the first six or seven years of his career and this, I believe, with the exception of 'Halloween', led to his work never really being appreciated by critics or audiences but I think he is one of the finest directors of the last thirty years if you accept his movies as entertainment first and social commentary second. There's always a market for that and Carpenter's films always earn an 'E' for effort. John Carpenter's films were always better received over seas than they were in North America. Furthermore, Carpenter is quoted as saying: "In France, I'm an auteur, in Germany I'm a filmmaker; in Britain I'm a genre film director and in the USA I'm a bum." I strongly and respectfully disagree. [Visit FILM FOLLOW-UP by Walter Frith]
---
Review by Andrew Wells (posted on 3-Aug-2007)
A very enjoyable Sci-Fi from John Carpenter, which I found not too far fetched. Excellent performances from Jeff Bridges and Karen Allen. The story was left wide open for a follow-up, (Karen Allen having his baby boy), but nothing transpired. Can anyone out there tell me why? If any film was crying out for a number 2 this has got to be it!
---
Do you know something we don't?
Submit a correction or make a comment about this profile

Copyright ©2019 Soylent Communications