Ken Park (31-Aug-2002)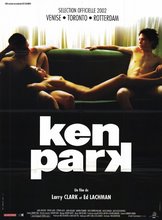 Directors: Larry Clark; Edward Lachman
Writers: Larry Clark; Harmony Korine
Keywords: Drama, Gay, Skateboarding




A number of troubled teeangers struggle through dysfunctional lives in Southern California.
ABSTRACT
Southern California's skate scene serves as the backdrop for this controversial drama about the lives of tormented teens from the mind of Harmony Korine, following bored young man Tate, meek Claude, superficial Shawn, and rebellious Peaches as they seek to inject a measure of excitement into their mind-numbingly languid lots in life.
REVIEWS
Review by anonymous (posted on 22-Jul-2006)
This movie is brutally honest, explicit, real, and the truth about what can happen in any neighborhood. The Larry Clark pulls no punches and tells it like it is and if people can't handle the movie don't watch it. We all have our secrets in life but Larry exposes them the way they really are. He is too honest for some people but he did the same for his movie "Kids" and that was extremely honest and the way things were for real with kids that fuck around and don't care what they do to others as long as they have sex and fun. Life is the way he portrays it and if people are shocked when they see his film they are only shocked because it exposes them for what they really are. Most people would never tell the truth about there private lives ever, Larry exposes all the bull shit in the world the way it really is. Bravo Larry Clark you are a fucken genius.
---
Do you know something we don't?
Submit a correction or make a comment about this profile

Copyright ©2019 Soylent Communications