About a Boy (26-Apr-2002)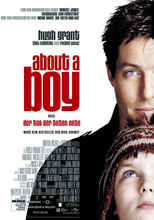 Directors: Paul Weitz; Chris Weitz
Writers: Peter Hedges; Chris Weitz; Paul Weitz
From novel: About a Boy by Nick Hornby
Music: Badly Drawn Boy
Producers: Jane Rosenthal; Robert De Niro; Brad Epstein; Tim Bevan; Eric Fellner




Film adaptation of the 1998 Nick Hornby novel of the same name follows an uptight British man's transformational encounter with a troubled boy.
ABSTRACT
Soundtrack composed by Badly Drawn Boy. Thirty-eight year old British man Will Freeman is a privileged individual living a life of luxury off of royalties for a Christmas musical staple penned by his late father, encumbered only by mild obsessive-compulsive disorder manifesting itself as a preoccupation with dividing his free time into "units" and a languid social life. A desire to date single mothers leads to his posing as a single father and taking part in a single parents' support group, ultimately forming a connection with depressed mother Fiona leading to a curious friendship with bullied young son Marcus. An outstanding performance by Grant in his trademark snobbish role alongside a capable supporting cast and soundtrack make this tale of middle-aged self-discovery and redemption a winner.
| Name | Occupation | Birth | Death | Known for |
| --- | --- | --- | --- | --- |
| Toni Collette | Actor | 1-Nov-1972 | | United States of Tara |
| Hugh Grant | Actor | 9-Sep-1960 | | Four Weddings and a Funeral |
| Nicholas Hoult | Actor | 7-Dec-1989 | | About A Boy |
| Natalia Tena | Actor | 12-Nov-1984 | | Harry Potter and the Order of the Phoenix |
| Rachel Weisz | Actor | 7-Mar-1971 | | The Constant Gardener |
CAST
In order of appearance
Hugh Grant
... Will
Nicholas Hoult
... Marcus
Sharon Small
... Christine
Madison Cook
... Imogen
Jordan Cook
... Imogen
Nicholas Hutchison
... John
Ryan Speechley
... Barney
Joseph Speechley
... Barney
Toni Collette
... Fiona
Natalia Tena
... Ellie
Laura Kennington
... Ellie's Friend
Tanika Swaby
... Ellie's Friend
Peter McNicholl
... Ellie's Friend
Christopher Webster
... Ellie's Friend
Ben Ridgeway
... Lee, the Bully
Jack Warren
... Lee's Sidekick
Russell Barr
... Maitre D'
Isabel Brook
... Angie
Orlando Thor Newman
... Angie's Kid
Paulette Williams
... Bitter Ex-Girlfriend
Fritha Goodey
... Bitter Ex-Girlfriend
Susannah Doyle
... Bitter Ex-Girlfriend
Delma Walsh
... Bitter Ex-Girlfriend
Jonathan Franklin
... Mark
John Kamal
... Nicky
Tessa Vale
... Class Teacher
Lorna Dallison
... Woman in Supermarket
Bethany Muir
... Child in Supermarket
Bruce Alexander
... Husband in Supermarket
Joyce Henderson
... Moira / SPAT
Jenny Galloway
... Frances / SPAT
Janine Duvitski
... Caroline / SPAT
Additional SPAT Women
Sue Hyams
... Additional SPAT Woman
Maggie Kahal
... Additional SPAT Woman
Lynn Askew
... Additional SPAT Woman
Beverly Milward
... Additional SPAT Woman
Danielle Harvey
... Additional SPAT Woman
Anna Maria Credenzone Philip
... Additional SPAT Woman
Sarah King
... Additional SPAT Woman
Susan Ghamsary
... Additional SPAT Woman
Edna Johnson
... Additional SPAT Woman
Victoria Smurfit
... Suzie
Frog Stone
... Mothercare Shop Assistant
Family in Mothercare Care Park
Buddy Hunter
... Family Member
Kristine Perrin
... Family Member
Nathan Perrin-Hunter
... Family Member
Rachael Perrin-Hunter
... Family Member
Amy Craven
... Suzie's Baby Megan
Rebecca Craven
... Suzie's Baby Megan
Sidney Livingstone
... Park Keeper
Cathy Murphy
... Nurse
Joanne Petitt
... Hairdresser
Jason Salkey
... Tom / Amnesty International Worker
Annabelle Apsion
... Amnesty International Worker
Matt Wilkinson
... Amnesty International Worker
Peter Roy
... Will's Dad
Matthew Thomas
... Candy Thrower
Aaron Keeling
... Candy Thrower
Scott Charles
... Candy Thrower
Claire Harman
... Skechers Shopgirl
Sian Martin
... Cute Waitress
Mark Drewry
... Clive
Denise Stephenson
... Lindsey
Rosalind Knight
... Lindsey's Mum
Rachel Weisz
... Rachel
Murray Lachlan Young
... New Year's Eve Party Guest
Augustus Prew
... Ali
Alex Kew
... Simon Cosgrove
Mark Heap
... Math Teacher
Sunanda Biswas
... Def Penalty Kru
James Marshall-Gunn
... Def Penalty Kru
Jamie Mayer
... Def Penalty Kru
Korede Obashju
... Def Penalty Kru
Roger Brierley
... Mr. Chalmers, the MC
Stefan Pejic
... Apple Thrower
REVIEWS
Review by anonymous (posted on 16-Jul-2006)
I wasn't going to see this movie until I wound up in Portland, Oregon for a few days and it was playing at a classic old theatre (the "Bagdad" - check it out if you're ever in Portland) for three bucks. And you can even enjoy pizza and beer freshly made on the premises. It was enough to coax me into seeing the film, which I liked a lot more than I thought I would. Besides, I must confess to having a soft spot for Hugh Grant. I remember his earlier, less cutesy performances in such films as <b>Lair of the White Worm</b> and <b>Remains of the Day</b> and longed to see him doing something more interesting than the stuttering, lovable token Brit he usually plays. In <b>About a Boy,</b> he loses his cowlick, sharpens up his cynicism and self-loathing, and thus becomes a new and intriguing character - before, by story's end, rediscovering his own inner Hugh Grant and going all cutesy on us again. <p> <b>About a Boy</b> is another adaptation of a Nick Hornby novel - the first was the literally Americanized version of <b>High Fidelity</b> - and like its predecessor, it captures the soul of Hornby's contemporary urban bachelor pretty well while glossing over the more audience-limiting details of his stories. (In this case, the entire subplot of one of the characters being obsessed with Kurt Cobain - hence the story's title, a riff off of the Nirvana song "About a Girl" - is completely dropped, either because the filmmakers didn't want to set the story in 1993 or Courtney Love refused to give them the rights to Nirvana's music.) The Weitz brothers, who seem to be doing everything from writing (<b>American Pie</b>) to directing (the regrettable <b>Down to Earth</b>) to acting (the creepy indie <b>Chuck & Buck</b>) may not seem the right choice to helm this film, Yanks as they are, and their self-conscious visual style (spin that camera!) is a bit overblown for the quiet little story they're tackling, but they've chosen a great cast, and as it's said, half of a director's job is in finding the right actors. For those new to the story, Hugh Grant plays a shallow slacker who, living off the royalties of his late father's schlocky Christmas song, has led a life of leisure with no responsibilities. Proud of his womanizing, he infiltrates a single parents group in order to chat up horny single moms, and through a string of complications that I don't have the energy to relate, he ends up befriending a lonely 12-year-old boy (newcomer Nicholas Hoult, a natural) whose own single mom (the always interesting Toni Collette) is constantly on the verge of suicide. Slowly, reluctantly, man and boy bond. And amazingly, it's nowhere near as cloying as it sounds. Of course everything winds up mindlessly happy at the end, but in the meantime you will at least be treated to some perceptive wit, a London closer to the real thing than we usually see in movies, and performances that are genuinely fresh and thought-through. And the story is clear-eyed enough to even make you forgive its predictable denouement.
---
Do you know something we don't?
Submit a correction or make a comment about this profile

Copyright ©2019 Soylent Communications