Son of Spartacus (24-Aug-1962)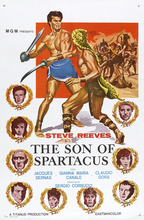 Original Title: Il Figlio di Spartacus
Director: Sergio Corbucci
Writers: Adriano Bolzoni; Bruno Corbucci; Giovanni Grimaldi
Keywords: Action/Adventure
Young Roman centurion Randus is sent by Julius Caesar to Lydia, to monitor Crassus who is growing too powerful. But en route he and his retinue are captured by slave traders; by necessity he leads a successful slave revolt. But because of a talisman he wears, one of the slaves identifies Randus as the son of Spartacus, who led a legendary revolt in Rome two decades earlier. One of the better sword-and-sandal productions. Also titled The Slave.
REVIEWS
Review by anonymous (posted on 10-Sep-2006)
This is one of Steve Reeve's best ever films. A great story line to borrow from, the legendary Spartacus, the famous roman slave who fought the evils of the roman empire and died on the cross. Reeves in this film is a roman solider working for Julius Ceasar and is put on a mission by Ceasar to find out how strong and how dangerous another roman ruler, Crassus is in another roman province. Casear is very concerned that Crassus will be a threat to his own empire and try to attempt a coup against Caesar. Reeves as Randus goes to spy on Crassus. Along the way via boat - the boat hits a shoal in the water and overthrows Reeves and a beautiful roman slave girl(Ombretta Colli), in the water. They are washed ashore and captured by a band of slave drivers loyal to Crassus. During this brief capture Reeves is wearing a talisman around his neck, that shows the emblem and legend of Spartacus and is recognized by the leader of the slave band, Gora. Gora tells Reeves of his possible heritage as the son of spartacus and Reeves is originally reluctant to believe it. After much pondering and walking through a catacomb that dislays the sword and shoulder plate of Spartacus, Reeves matches his talisman with that of the same emblem on Spartcus's sword. Voila! Reeves is now running a double life as the son of spartacus leading a slave rebellion and also as a Roman centurion on a diplomatic mission for Caesar. Crassus is mystified. All of a sudden his iron clad rule is being threatened by a slave rebellion led by Reeves. Reeves identity is hidden by a full face helmet and his ability to get back safely into Crassus's palace after each raid. Crassus and his henchmen cannot figure out what is going on and who is leading this revolt, little did he know it was Reeves - Caesar's diplomat. In the end Reeves oversteps his bounds in attemtping to destroy Crassus, is captured and his identity as the slave leader is revealed. Crassus plans to turn him over to another army of barbarians who is threatening to destroy Caesar. Reeves followers free him during a daring raid on Crassus's camp. In the end Reeves meets face to face with Caesar and tells him of his heritage. Caesar decides Reeves even though a hero and loyal solider must die. The slaves show up right before his crucifixion in huge masses and implore Caesar to save Reeves from death. Caesar agrees since "there is not enough wood" to crucify all of Reeves slave followers. Reeves and his love interest, Colli, embrace and decide to lead the slaves in the future. End of story.
---
Review by anonymous (posted on 30-Oct-2006)
I saw this film way back in the sixties, at the time there lots of sword & sandal films, this one sticks in my mind because it had a bit of the Zorro about it, son takes over where the farther left off, his identity was hidden by a closed helmet (if I remember correctly) and he left his mark "S" even in them days as young kid you could see the synchronisation was bad, but the colour was spectacular. For entertainment value it was good
---
Do you know something we don't?
Submit a correction or make a comment about this profile

Copyright ©2019 Soylent Communications