Invictus (3-Dec-2009)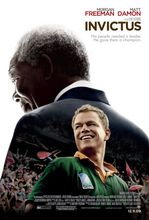 Director: Clint Eastwood
Writer: Anthony Peckham
Based on a book: Playing The Enemy by John Carlin
Keywords: Drama, Rugby, South Africa




Inspiring story of the 1995 South African rugby team and its quest to win the World Cup, as seen through the eyes of Nelson Mandela. Mandela takes rugby, a sport popular with the Afrikaaners and thus a lingering symbol of apartheid, and turns it into a rallying point for popular unity under his new, uncertain government.
The film takes its title from Invictus, an 1875 poem by W. E. Henley, which has inspired many under adversity and was a balm to Mandela during his 27 years in prison:
Out of the night that covers me,
Black as the pit from pole to pole,
I thank whatever gods may be
For my unconquerable soul.

In the fell clutch of circumstance
I have not winced nor cried aloud.
Under the bludgeonings of chance
My head is bloody, but unbowed.

Beyond this place of wrath and tears
Looms but the Horror of the shade,
And yet the menace of the years
Finds and shall find me unafraid.

It matters not how strait the gate,
How charged with punishments the scroll,
I am the master of my fate:
I am the captain of my soul.
REVIEWS
Do you know something we don't?
Submit a correction or make a comment about this profile

Copyright ©2019 Soylent Communications