Signs (29-Jul-2002)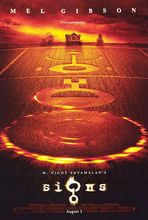 Director: M. Night Shyamalan
Writer: M. Night Shyamalan
Keywords: Sci-Fi/Horror, Alien Invasion




Sci-fi thriller depicts a rural family's discovery of crop circles on their farm and the horrifying consequences that follow.
ABSTRACT
Graham Hess, a preacher struggling with a loss of faith following his wife's death in a car accident, trades in his city-dwelling ways for a life on a farm alongside his surviving son, daughter, and brother. Any hopes for a peaceful existence are dashed when Graham discovers a number of crop circles in his cornfield one fateful day, however, soon thrust into a terrifying ordeal when he must protect his family from certain danger once the circles' extraterrestrial origin is made evident.
REVIEWS
Review by John Mailer (posted on 20-Feb-2005)
Signs is a good film, and a classic example of a story telling of aliens, and their forces.
The story is when a Reverend (Mel Gibson) and his family wake up to find crop circles in their cornfields. When the family try to investigate, the prospects become more and more chilling, until they are forced to board up their house.
But it isn't just that. Complicated things going around the house, little extras to keep you aware of what's going on, appear around the house, e.g. news, noises etc.
Eventually, one of 'them' breaks in, and a fight breaks out? Who will win? Are the extra terrestrials really what they are said?
Generally, any sci-fi fan should see this film.
---
Do you know something we don't?
Submit a correction or make a comment about this profile

Copyright ©2019 Soylent Communications