Eurotrip (20-Feb-2004)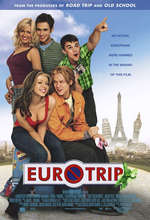 Director: Jeff Schaffer
Writers: Alec Berg; David Mandel; Jeff Schaffer
Music by: James L. Venable
Producers: Daniel Goldberg; Jackie Marcus; Alec Berg; David Mandel




A newly-minted high school graduate burned by a recent breakup opts for a European expedition with his buddies.
ABSTRACT
Scott Thomas, a well-intentioned, by-the-book "nice guy" and recent high school graduate hailing from Ohio, finds his desirable life interrupted when loose girlfriend Fiona breaks up with him on his graduation day. Turning to German pen pal Mike for solace, young Scott learns that "he" is actually an attractive lass by the name of Mieke, setting aside his dreams of entering pre-med for the time being to head out on a wild and wonderful trip to Europe with best friend Cooper in tow in an attempt to be with her.
CAST
Scott Mechlowicz
... Scott Thomas
Jacob Pitts
... Cooper Harris
Michelle Trachtenberg
... Jenny
Travis Wester
... Jamie
Vinnie Jones
... Mad Maynard
Lucy Lawless
... Madame Vandersexxx
Jessica Boehrs
... Mieke
Patrick Malahide
... Arthur Frommer
Patrick Rapold
... Christoph
Diedrich Bader
... Mugger
Kristin Kreuk
... Fiona
Cathy Meils
... Mrs. Thomas
Nial Iskhakov
... Bert
Matt Damon
... Donny
Lustra -- Donny's Band
J. Adams
... Guitars
Christopher Baird
... Vocals
Nicholas J. M. Cloutman
... Bass
Bruce Fulford
... Drums
Molly Schade
... Candy
Jakki Degg
... Missy
Lenka Vomocilova
... Sissy
Andrea Stuart
... Courier Clerk
Paul Oldham
... Cecil
Mike McGuffie
... Hooligan
John Comer
... Hooligan
Jeff Smith
... Hooligan
Mike Cella
... Hooligan
David Fisher
... Hooligan
Christian Dunckley Clark
... Hooligan
Petr Jákl
... Gunter
Jakub Kohák
... French Soccer Fan
J. P. Manoux
... Robot Man
Fred Armisen
... Creepy Italian Guy
Eric Moscoso Vertiz
... Naked Spanish Guy
Labass Kanoute
... Naked African Guy
Sota Sakuma
... Naked Tiny Asian Guy
Edita Deveroux
... Nude Beach Lady
Petra Tomankova
... Nude Beach Lady
Barbora Navratilova
... Vandersexxx Girl
Lucie Kachtikova
... Vandersexxx Girl
Tereza Zimova
... Vandersexxx Girl
Zuzana Kocova
... Vandersexxx Girl
Go Go Dyei Jen-Michel
... Rasta Waiter
Helder Cambolo
... Rasta Chef
Jana Pallaske
... Anna, The Camera Store Girl
Vilem Holy
... Hans
Jiri Maria Sieber
... Gruber
Roger Deneshe
... Bakery Man
Amy Huck
... Bakery Woman
Dominic Raacke
... Trucker
Rade Serbedzija
... Tibor
Jan Nemejovsky
... Manager at Opulent Hotel
Miroslav Táborsky
... Waiter at Opulent Hotel
Tereza Brettschweiderova
... Girl in Orange Juice Ad
Kristyna Simova
... Girl in Orange Juice Ad
Vitezslav Bouchner
... Orange Juice Ad Voice Over
Steve Hytner
... Green Fairy
Walter Sittler
... Mieke's Father
Adam Dotlacil
... Heinrich
Joel Kirby
... Swiss Guard
Andrea Miltnerova
... Vatican Tour Guide
Ellen Savaria
... Tourist Woman in Vatican
Pedja Bjelac
... Italian Guy at Vatican
Nick Jameson
... Reporter
Jack Marston
... Pope
Pat Kilbane
... American Robot Guy
Joanna Lumley
... Hostel Clerk
REVIEWS
Review by anonymous (posted on 16-Sep-2006)
This is a cool movie. The actors are genuine and not forced. I enjoyed the juvenile subject matter - easy on the brain and full of good laughs. Though the plot was a bit shallow in general, the way that the characters keep getting side-tracked is amusing. Lots of good photography of actual europe. Lots of colorful short-term characters for the primary actors to interact with. One thing that is kind of a let down is that the only full nudity is a bunch of older men. But you do get to see Michelle Trachtenberg in almost all her young freshness. The robot mime scene is pure genius. Funny and simple, but well played out by the actors. I laughed really hard at this, though I am almost ashamed to admit it. But it is a good movie for the average 25 year old. Any older and you will probably still laugh, but you won't want to brag about it.
---
Do you know something we don't?
Submit a correction or make a comment about this profile

Copyright ©2019 Soylent Communications