Anchorman: The Legend of Ron Burgundy (9-Jul-2004)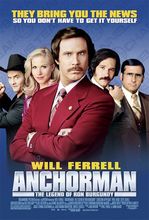 Director: Adam McKay
Writers: Will Ferrell; Adam McKay
Music by: Alex Wurman
Producer: Judd Apatow
Keywords: Comedy




Will Ferrell-led spoof follows an egocentric 1970s news anchor's struggle with a challenge to his industry dominance.
ABSTRACT
San Diego's own Ron Burgundy has it all in the mid-1970s: a cushy gig as Channel 6's top-rated anchorman, a reliable team of reporters and staffers at his side, and the adoration of the general public. Of course, all good things, so the saying goes, must come to an end, and Burgundy's situation proves to be no exception when a move by Channel 6 management to embrace diversity results in the hiring of charming anchorwoman Veronica Corningstone, presenting a tough challenge to the big-headed Burgundy as the charismatic Corningstone seems primed and ready to turn their industry's male-dominated hierarchy upside down.
[watch trailer]
CAST
Will Ferrell
... Ron Burgundy
Christina Applegate
... Veronica Corningstone
Paul Rudd
... Brian Fantana
Steve Carell
... Brick Tamland
David Koechner
... Champ Kind
Chris Parnell
... Garth Holliday
Kathryn Hahn
... Helen
Fred Armisen
... Tino
and
Fred Willard
... Ed Harken
Seth Rogen
... Eager Cameraman
Paul F. Tompkins
... MC
Danny Trejo
... Bartender
Scot Robinson
... Waiter at Tino's
Ian Roberts
... Stage Manager
Darcy Donavan
... Hot Blonde
Renee Weldon
... Petite Brunette
Jerry Minor
... Tino's Bassist
Holmes Osborne
... Director
Charles Walker
... Security Guard
Shira Piven
... Mother
Lili Rose McKay
... Child
Thomas E. Mastrolia
... Biker Guy
Jay Johnston
... Eyewitness News Member
Peter Hulne
... Man in Kitchen
Laura Kightlinger
... Donna
Adam McKay
... Custodian
Joseph T. Mastrolia
... Custodian
Judd Apatow
... News Station Employee
Debra McGuire
... News Station Employee
Kent Shocknek
... Network Reporter
Monique McIntyre
... Yelling Woman
Bob Rummler
... Bum
Chuck Poynter
... Announcer
Esmeralda McQuillan
... Middle Class Mother
Angela Grillo
... Elderly Woman
Lionel Allen
... Wealthy Family Father
Trina D. Johnson
... Wealthy Family Mother
Mary Alice G. Goodin
... Wealthy Family Child
Jasmine Nicole Jackson
... Wealthy Family Child
Fred Dresch
... Doctor
Glen Hambly
... Middle Class Dad
Stuart Gold
... Nursing Room Resident
Bill Kurtis
... Bill Lawson
Jack Black
... Motorcyclist
Ben Stiller
... Arturo Mendes
Luke Wilson
... Frank Vitchard
REVIEWS
Review by Richard Conner (posted on 5-Sep-2007)
Styled as a parody of the modern television scene in, and featuring competent actors such as Christina Applegate, this movie falls short of its goal for some, including me. It is set in the 1970s and centers around the attempt by the Applegate character to achieve anchorwoman status in a southern California TV market. Will Ferrell plays the title character, a carefully dressed and coifed anchorman, but one who is dense and sexist. Several other actors play sterotypical roles depicting the presumed extremes of TV journalism in that era. I found it strained in its attempts at humor and not a good depiction of the ambiance it attempted to parody. No doubt appreciated by many Saturday Night Live devotees, I do not join them and would be reluctant to recommend this movie to anyone.
---
Do you know something we don't?
Submit a correction or make a comment about this profile

Copyright ©2019 Soylent Communications